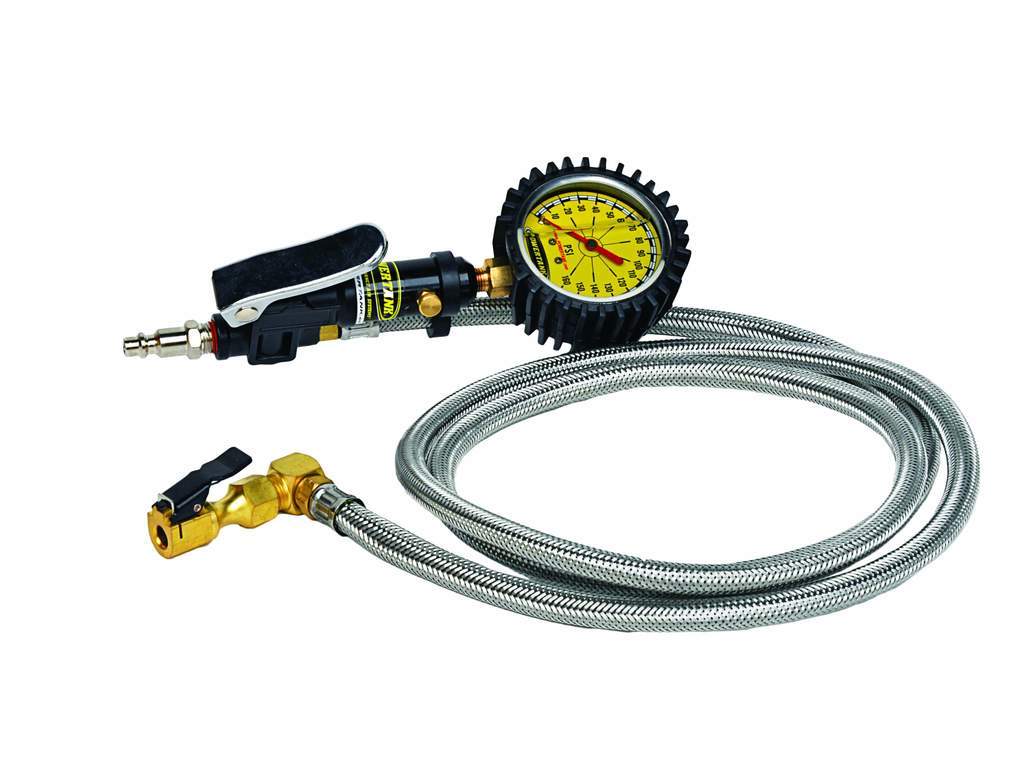 Power Tank Long Haul Safety Series - 0-160 PSI Liquid Analog Tire Inflator
Power Tank Long Haul Safety Series - 0-160 PSI Liquid Analog Tire Inflator
Euro Clip-On (Standard)
MCQUEEN
190 South McQueen Road
Suite 109
Gilbert AZ 85233
United States
+14806332929
This is Power Tank's Safety Series version of our Long Haul 0-160 psi liquid analog tire inflator. Originally designed for RVs and Motorhomes with higher pressure tires, the Safety Series tire inflators feature a long 6 ft. hose whip. What's the long hose whip for? With higher tire pressures comes increased danger in the event of a sidewall blow out or "zipper burst". The longer hose allows you to stand up and off to the side, out of the way should a tire failure occur.

KEY FEATURES:
0-160 psi Liquid Analog Gauge
+/- 3.2 psi Accuracy
Safety Series 6 ft. Steel Braided Whip
Fully Rebuildable
PRODUCT DETAILS:
Power Tank's tire inflators are designed in house and we spec only the highest quality components before we hand assemble them in our shop. You have a choice between our standard Euro clip-on chuck, a high pressure push-on chuck, or a dual head chuck. We spec only true Euro clip-on chucks so you know that tolerances are tight and they'll grip your valve stem solidly every time. The high pressure push-on (HiPPO) chuck has an even tighter hold as it grips in two spots instead of one, though it is wider at 7/8" and may have issues gripping onto hard to reach stems. If you have dually wheels or Alcoa wheels with hard to reach stems, choose a dual head chuck.
The strict tolerances in the pressure cast body and brass piston ensure a buttery smooth trigger action. They slide using tough EPDM O-rings that won't tear when subject to the extreme pressures and flow rates of a Power Tank. The bleed button to let air out sits right beside the trigger and falls right under your thumb, exactly where you'd expect it.
The 160 psi gauge is filled with silicone and has a protective rubber boot. This is to protect the internals from vibration and drops. We use silicone because it doesn't slow down in cold weather, unlike common glycerin filled gauges. It is accurate to +/- 3.2 psi. For increased accuracy, spec our 150 psi digital gauge. It is accurate to +/- 1.5 psi.
KEY FEATURES:

- 0-160 psi Liquid Analog Gauge
- +/- 3.2 psi Accuracy
- Safety Series 6 ft. Steel Braided Whip
- Fully Rebuildable
American-made Excellence
SDHQ: Built for Adventure
Experience American-made excellence from SDHQ, your fellow off-road enthusiasts. We take pride in crafting high-quality, custom products right at our headquarters for unparalleled performance and durability.
Check out what 'SDHQ Built' means for us as well as our customers: