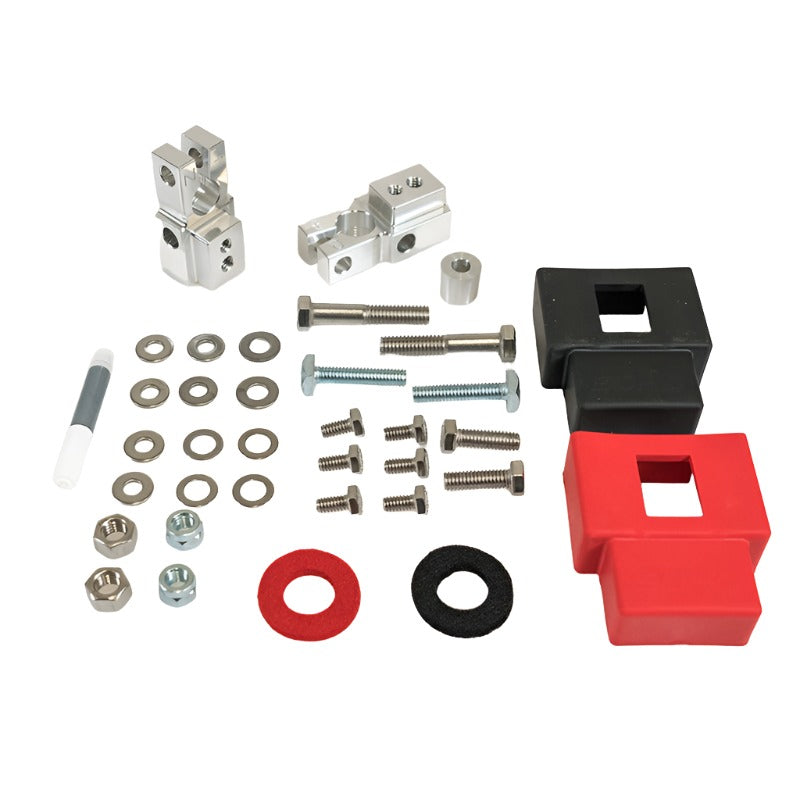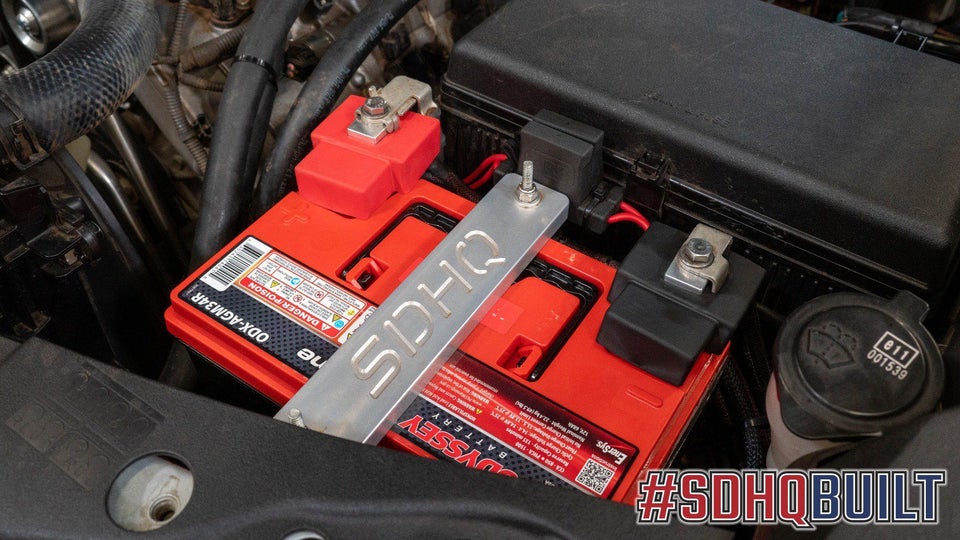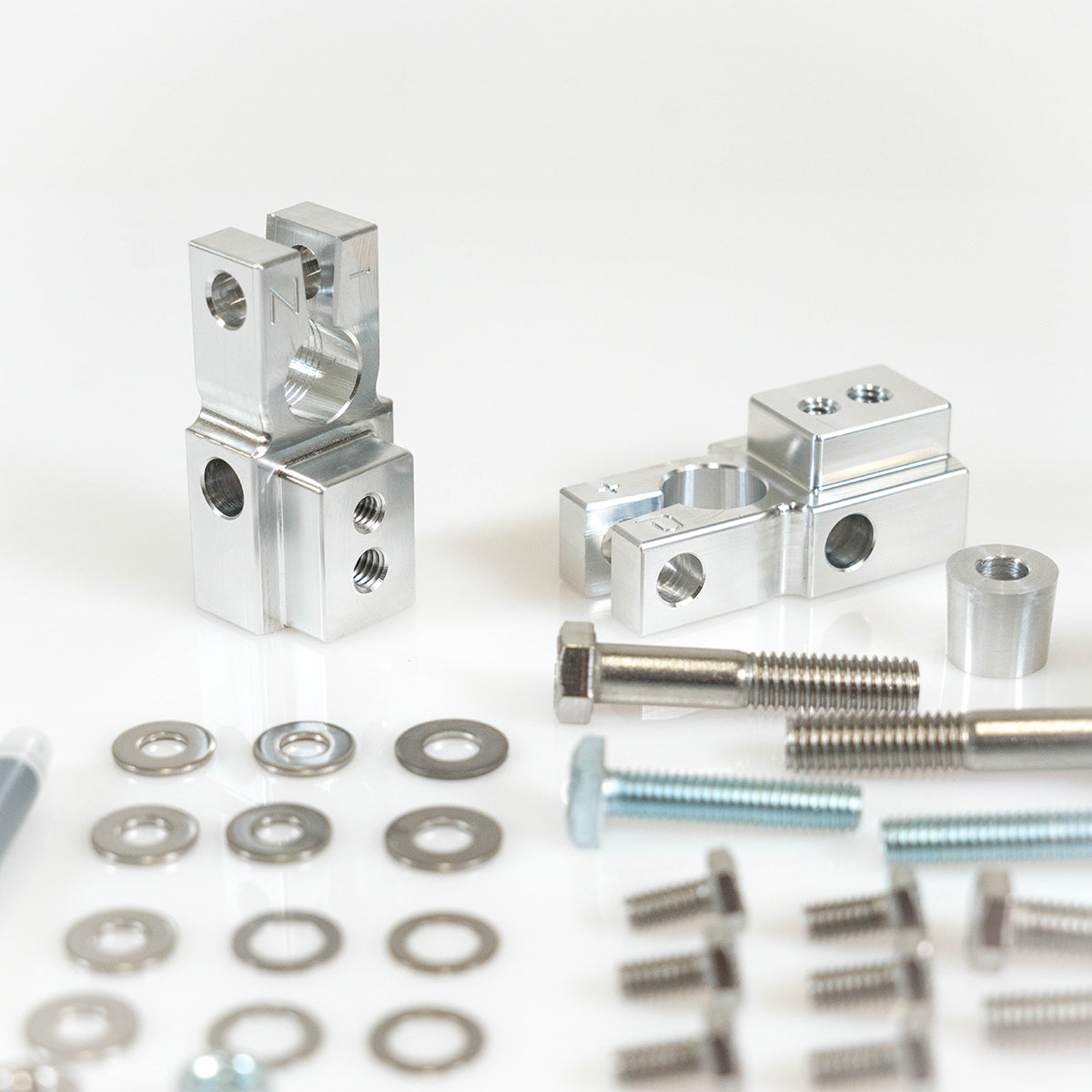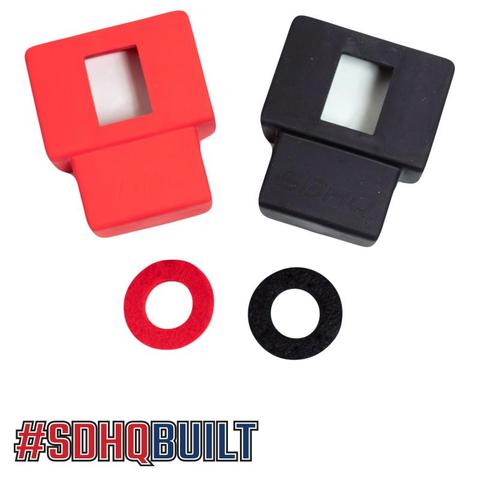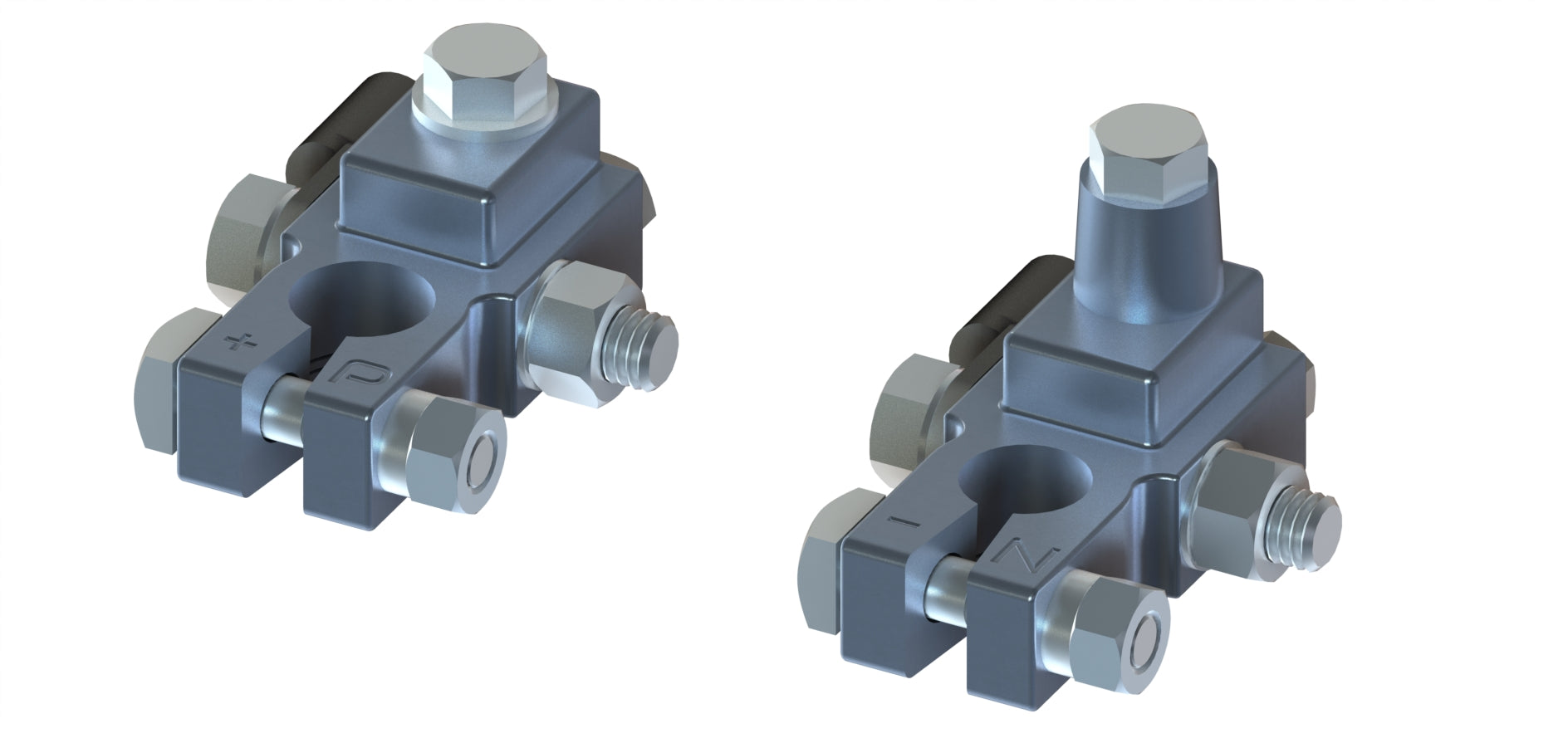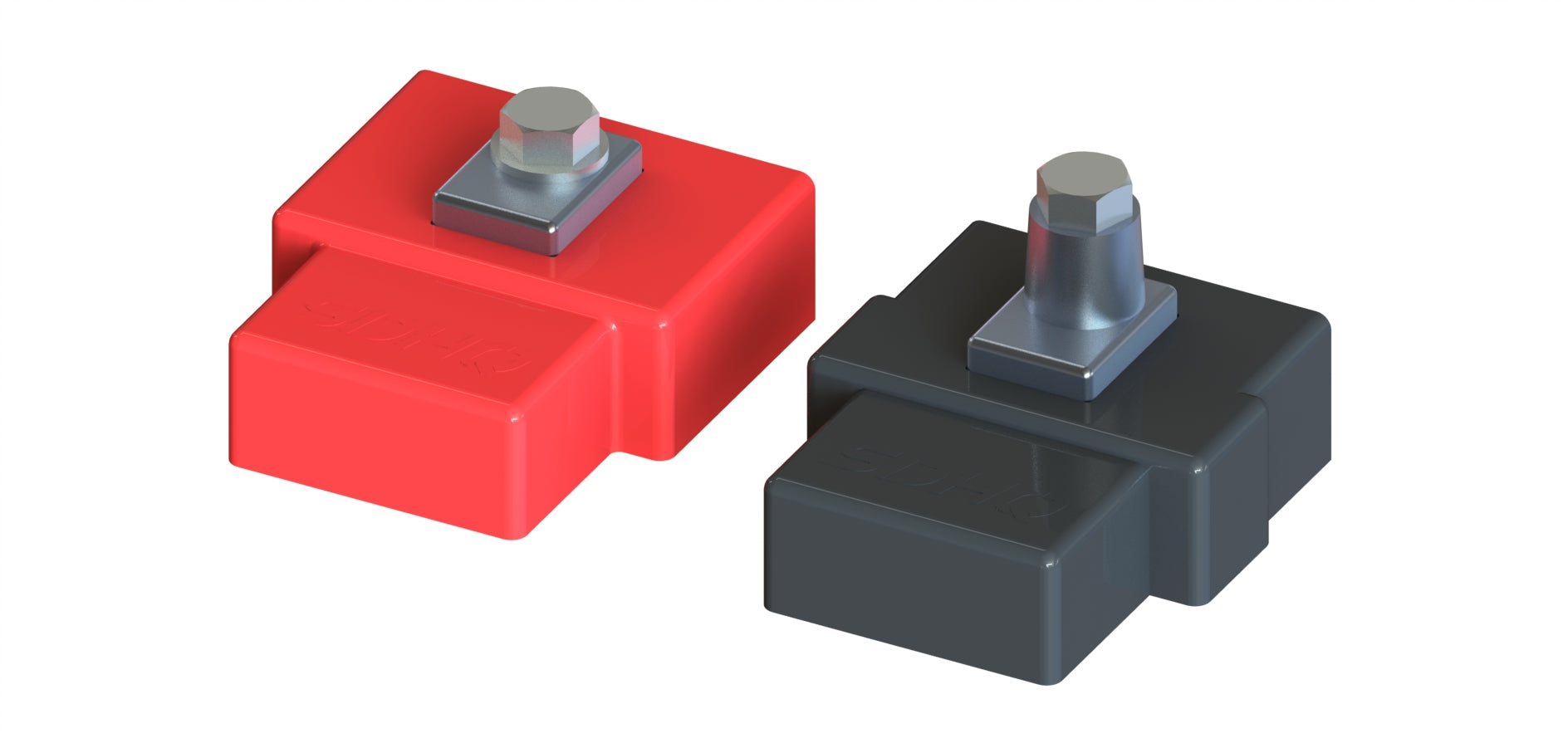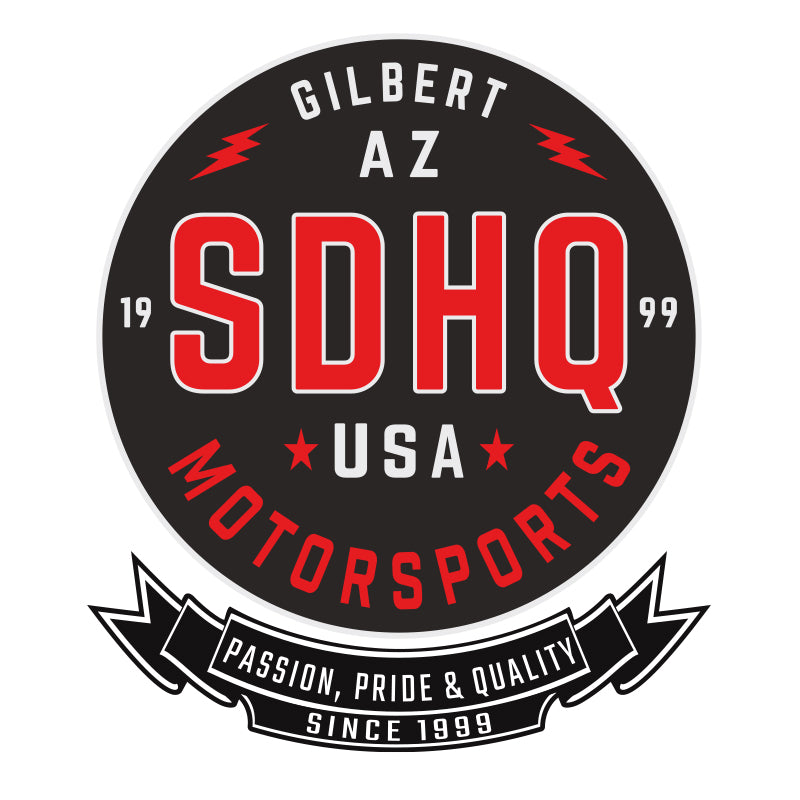 SDHQ Built Complete Billet Battery Terminal Kit
SDHQ Built Complete Billet Battery Terminal Kit
MCQUEEN
190 South McQueen Road
Suite 109
Gilbert AZ 85233
United States
+14806332929
SDHQ's Billet Battery Terminal Upgrade Kit

Enhance and protect your vehicle's battery terminals with SDHQ's kit. Seamlessly install off-road accessories.
Highlights:
No more piecing components together.
Up to five additional terminal connections for safe, organized installations – perfect for off-road lighting, audio equipment, winches, and more.
Precision-engineered from high-quality 6061 Aluminum.
3D CAD designed and built in-house at SDHQ for a superior fit and finish.
Kit Includes:
Billet Positive and Negative Battery Terminals
Terminal protective boots and post washers
SDHQ Terminal Stud
Terminal connections in multiple sizes: 2 x 3/8", 1 x 5/16", 2 x 1/4" (or configure with 

2 x 3/8" and 3 x 1/4")
Protective Boots:
Made in the USA: Higher quality, longer-lasting product.
Crafted from ExxonMobil Santoprene with superior heat resistance up to 275°F and flexibility down to -76°F.
Package Contents:
1x SDHQ Billet Positive Battery Terminal
1x SDHQ Billet Negative Battery Terminal
1x SDHQ Negative Terminal Stud
1x Hardware Kit
1x Protective Positive Boot
1x Protective Negative Boot
1x Red Post Washer
1x Black Post Washer
Vehicle Compatibility:
Toyota: Tundra, Tacoma, 4Runner, FJ Cruiser, Land Cruiser, Sequoia
Lexus: GX460, GX470, LX570
Nissan: Armada, Titan, Frontier, Pathfinder, Xterra
Note: Incompatible with vehicles having OEM amperage sensors on the negative terminal. Recommended for use with sealed batteries.
If you have the time, consider leaving us a review - your opinion and experience are important to us!
BILLET TERMINALS KEY FEATURES:

- 3D CAD designed, engineered & built in-house for our typical SDHQ Built quality, fit, and finish.

- Positive and Negative Billet 6061 Aluminum Terminals(or terminal distribution blocks) are machined In-House at SDHQ.

- Ability to retain all factory wiring utilizing the SDHQ Terminal Stud.

- Multi connection Battery Terminal or Billet Power Distribution Block.

Five additional terminal connections:
- 2 - 3/8" Terminal connections
- 1 - 5/16" Terminal connections
- 2 - 1/4" Terminal connections

PROTECTIVE BOOT(S) KEY FEATURES:

- Proudly manufactured in the United States of America, making our injection molded covers a higher quality, longer-lasting product.

- Includes negative and positive protection boots.

- Injection Molded from ExxonMobil Santoprene.

- Terminal Post Washers seal out acid fumes.

- Meets Ford WSD-M2D380-A1 and Chrysler MS-AR-100 CGN.

- Superior chemical/heat resistance (275°F), and flexibility even at low temperatures to −76 °F

Note:
- If your vehicle has an OEM amperage sensor on the negative terminal then our complete terminal kit will not fit.
American-made Excellence
SDHQ: Built for Adventure
Experience American-made excellence from SDHQ, your fellow off-road enthusiasts. We take pride in crafting high-quality, custom products right at our headquarters for unparalleled performance and durability.
Check out what 'SDHQ Built' means for us as well as our customers: