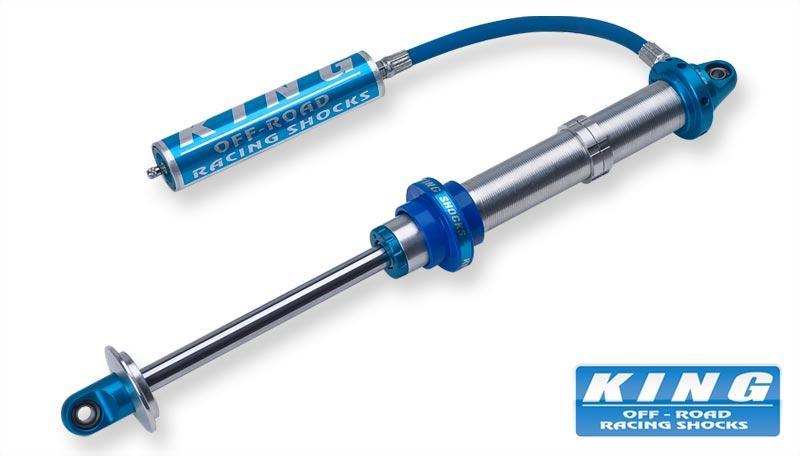 2.0 Performance Racing Series Remote Reservoir Coilover
STATE OF CALIFORNIA CONSUMER WARNING: Some products may contain chemicals such as DEHP, which can cause cancer, birth defects or other reproductive harm.
PRODUCT OVERVIEW:
King 2.0 Performance Race Series Coilover Shocks
King's Performance Race series shocks are brimming with technological breakthroughs conceived during strenuous testing in the harshest environments. Utilizing only the highest quality materials and strict precision tolerances they deliver unparalleled performance. King's understanding of fluid dynamics and piston design has created unmatched levels of ride quality and superior control.
King offer a wide range of shock types and configurations such as bypass shocks, coilovers, smooth bodies with reservoir, or pure emulsion. King shocks don't sit on a shelf looking for a home but instead are 100% custom made for your application. All King shocks are easily tunable with simple tools to provide the level of damping you need.
When you choose to ride on Kings you can rest assured you will have the finest shocks available. A set of King, Performance Race series shocks, are all you need to make your suspension perform to its full potential.
100% made in the USA under the strictest tolerances from the highest quality materials obtainable. Easily tunable and serviceable with simple hand tools.
COMPRESSION ADJUSTER FEATURES:
King Shocks offer Compression Adjusters on 2.0, 2.5, and 3.0 coilovers, smoothies and internal bypass shocks. King compression Adjusters have a single knob to quickly make adjustments to mid speed compression, resulting in changes to ride comfort and performance. In addition to helping you dial in the perfect ride, they improve the function of the shock and can also save you countless hours of suspension tuning.

Part # Travel Compression
Length Extended
Length Type
KRS-PR2006-COHR 6" 13.000" 19.000" 2.0 Coilover Remote
KRS-PR2008-COHR 8" 15.000" 23.000" 2.0 Coilover Remote
KRS-PR2010-COHR 10" 17.050" 27.050" 2.0 Coilover Remote
KRS-PR2012-COHR 12" 19.585" 31.585" 2.0 Coilover Remote
KRS-PR2014-COHR 14" 21.585" 35.585" 2.0 Coilover Remote
KRS-PR2016-COHR 16" 23.600" 39.500" 2.0 Coilover Remote
American-made Excellence
SDHQ: Built for Adventure
Experience American-made excellence from SDHQ, your fellow off-road enthusiasts. We take pride in crafting high-quality, custom products right at our headquarters for unparalleled performance and durability.
Check out what 'SDHQ Built' means for us as well as our customers: