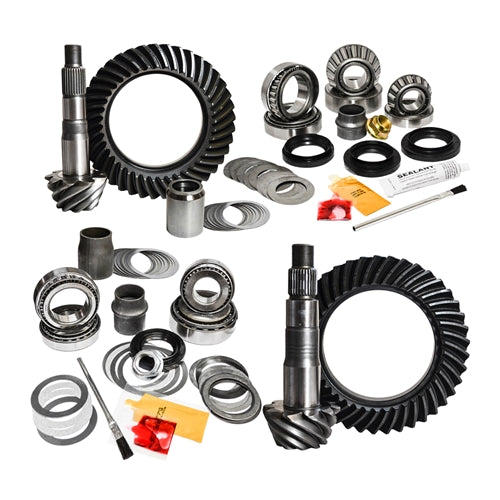 '05-15 Toyota Tacoma W/O E-Locker Front and Rear Gear Package Kit
'05-15 Toyota Tacoma W/O E-Locker Front and Rear Gear Package Kit
4.88 / No
MCQUEEN
190 South McQueen Road
Suite 109
Gilbert AZ 85233
United States
+14806332929
Nitro Gear and Axle's complete gear kit is designed to improve performance and fuel economy for the 2005-2015 (2nd Gen) Toyota Tacoma without the OEM E-Locker.
If you've fitted larger tires to your vehicle then you are likely experiencing a loss in performance, fuel economy, and more constant transmission gear "hunting" - This is because the larger tires reduce your engine's RPMs below the optimal power band. Re-gearing the differentials in your vehicle is the only way to get your vehicle back into its optimal operating RPM range, thus improving performance and reducing strain on your vehicle's drivetrain. This is especially important for today's vehicles as they feature tall factory gearing and overdrive transmissions which are less tolerant to increase in tire size or the weight of added accessories.
It's a common misconception that gear changes are reserved only to hardcore off-roaders or trucks with huge tires. However, re-gearing is one of the single most beneficial modifications you can make to keep the performance, economy, and durability of your daily-driven 4x4. This is a mod for anyone with larger tires, increased weight, or for increased performance on stock vehicles for towing or increased acceleration.
VEHICLE FITMENT:
2005-2015 Toyota Tacoma 4x4 V6
2005-2015 Toyota Tacoma 4x4 4 Cylinder (*requires carrier)
KEY FEATURES:
Manufactured in South Korea
8620 Steel Gear Forgings
Precision Machining
CNC Triple-lapping
Heat Treatment
Rockwell Hardness Tested
WHAT'S INCLUDED:
Nitro front ring & pinion
Nitro front Master Install Kit
Nitro rear ring & pinion
Nitro rear Master Install Kit
Front pinion pre-load spacer
Rear pinion pre-load spacer
DRIVETRAIN FITMENT:
Front Differential: Toyota 8" Clamshell
Rear Differential: Toyota 8.4"
Gear Ratio: 4.10, 4.56, 4.88 or 5.29
PART NUMBERS:
Part#
Gear Ratio

GPTACO05PLUS-4.88

4.88

GPTACO05PLUS-4.56

4.56

GPTACO05PLUS-4.10

4.10

GPTACO05PLUS-5.29

5.29
TECH NOTES:
Does not fit models with OEM push-button rear locking differential. *4 Cylinder models have 4.10 factory gears.
When changing to A/M gears a new carrier is required:

*4.30 & 5.29 Use Standard Thickness Front Gearset and are designed to fit the OEM 3.90+ Carrier, models equipped with 3.73 or down will require an ARB RD111.
*4.10, 4.56, 4.88 Use "Thick" Front Gearset and are designed to fit the OEM 3.73Carrier, models equipped with 3.91+ will require an ARB RD121
KEY FEATURES:

- Manufactured in South Korea
- 8620 Steel Gear Forgings
- Precision Machining
- CNC Triple-lapping
- Heat Treatment
- Rockwell Hardness Tested
American-made Excellence
SDHQ: Built for Adventure
Experience American-made excellence from SDHQ, your fellow off-road enthusiasts. We take pride in crafting high-quality, custom products right at our headquarters for unparalleled performance and durability.
Check out what 'SDHQ Built' means for us as well as our customers: