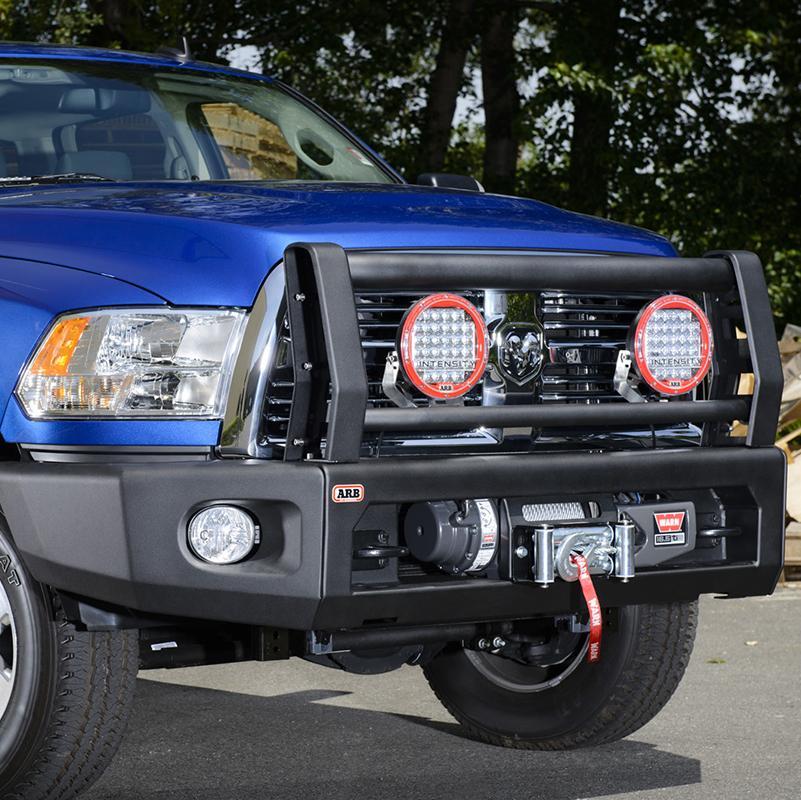 10-17 Dodge Ram 2500/3500 Sahara Bar Bumper
10-17 Dodge Ram 2500/3500 Sahara Bar Bumper
MCQUEEN
190 South McQueen Road
Suite 109
Gilbert AZ 85233
United States
+14806332929
This kit adds a center upright hoop to the full width bumper. This hoop provides additional protection around the truck's grille and critical components. 

 Very modern in styling yet distinctively ARB in heritage, this new Modular Bull Bar is truly innovative and utilizes a new modular design. 
Three distinct configurations are available, allowing for customization to meet individual needs or preferences. Many considerations were included in the research and development process, but first and foremost the bar needed to retain the ARB core principles of quality, reliability and practicality. This new style of Modular Bull Bar is a direct response to the research and collaboration performed by ARB's expert engineers. The result is a Modular Bull Bar that provides features for any Ram 2500 or 3500, no matter if it is a dedicated hunting rig that takes off for the back country, a fleet truck, or a daily driver that must be ready for any adventure. 
This new design features a large split center pan, formed wings, and a center upright assembly specifically designed to match and carry the truck's styling. The tough and rugged appearance of the Ram 2500 and 3500, with its bold grille and headlights, matched with the styling of the Modular Bull Bar results in a staggeringly stalwart presence that is functional no matter where the truck finds itself. 
Each of the integrated features were also designed from the ground up. From the all new Integrit™ textured powder coat, the unique press formed fog light housings, and the ability to mount a variety of winches (up to a Warn 16.5ti) within the bumper, this is a completely new way to address protection. 
Features:

Protects your off-road beast from rocks, dirt, and debris
Adds rugged elegance and style to your vehicle
Premium quality construction for impeccable strength and superior reliability
Tough as nails to stand up to just about anything you may encounter off-road

American-made Excellence
SDHQ: Built for Adventure
Experience American-made excellence from SDHQ, your fellow off-road enthusiasts. We take pride in crafting high-quality, custom products right at our headquarters for unparalleled performance and durability.
Check out what 'SDHQ Built' means for us as well as our customers: