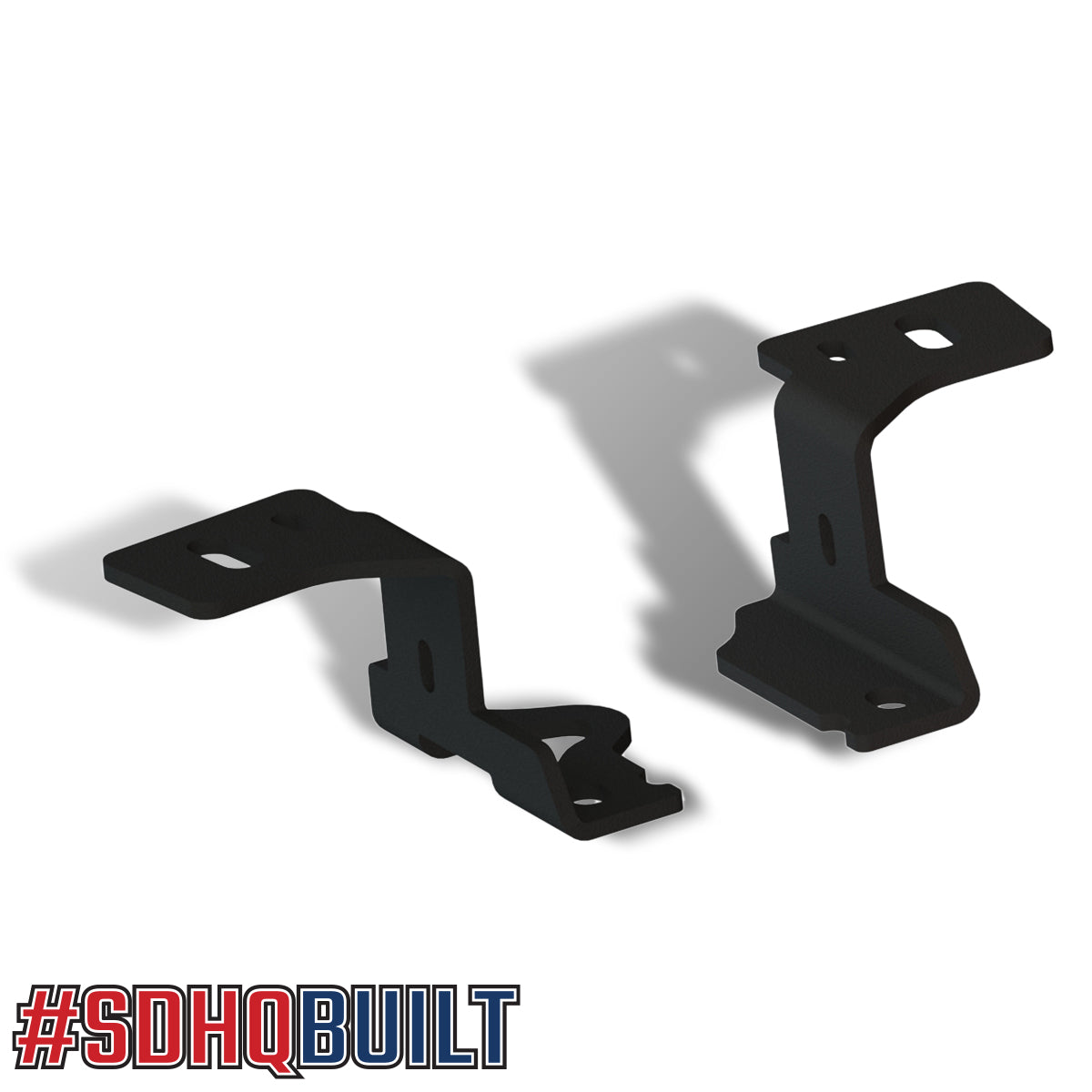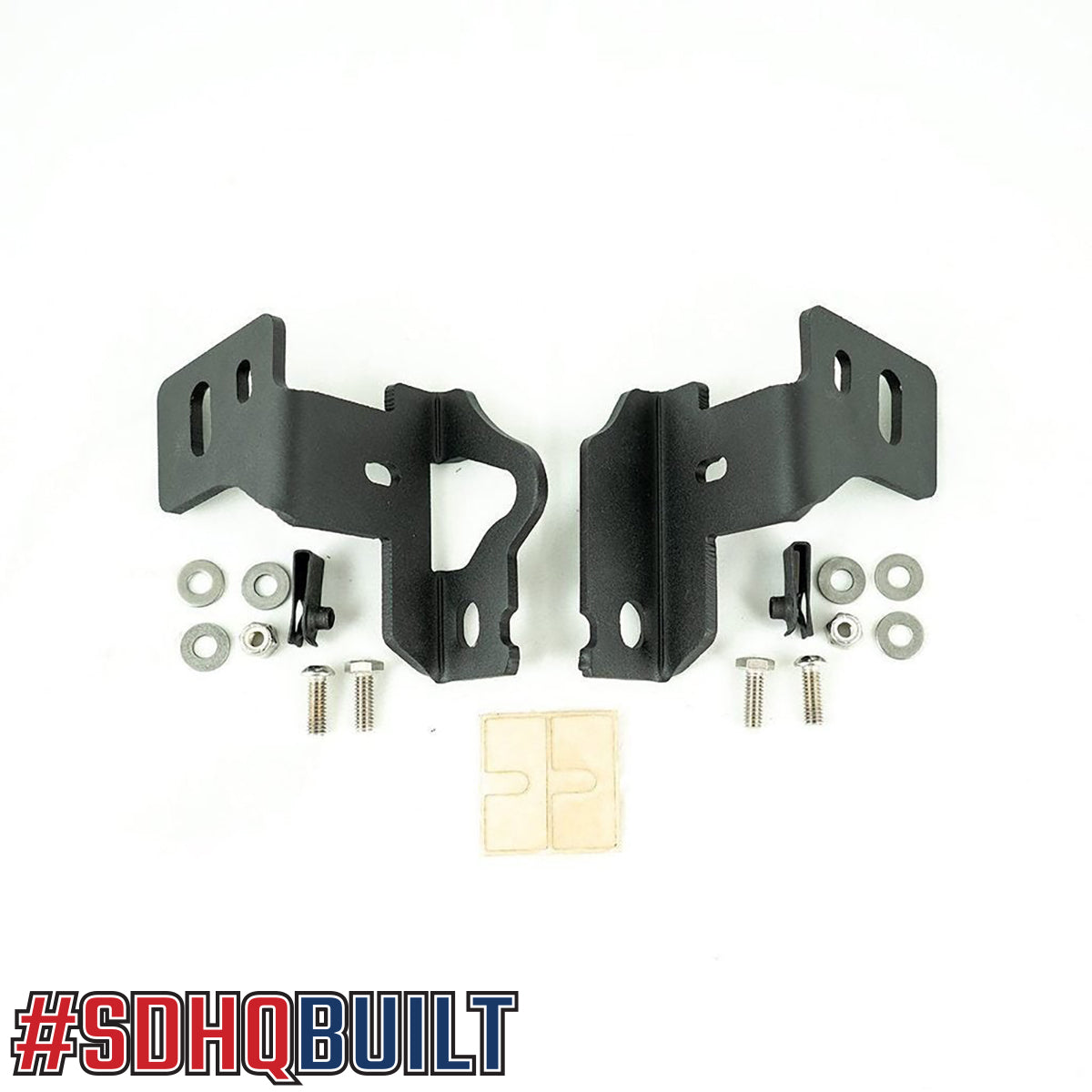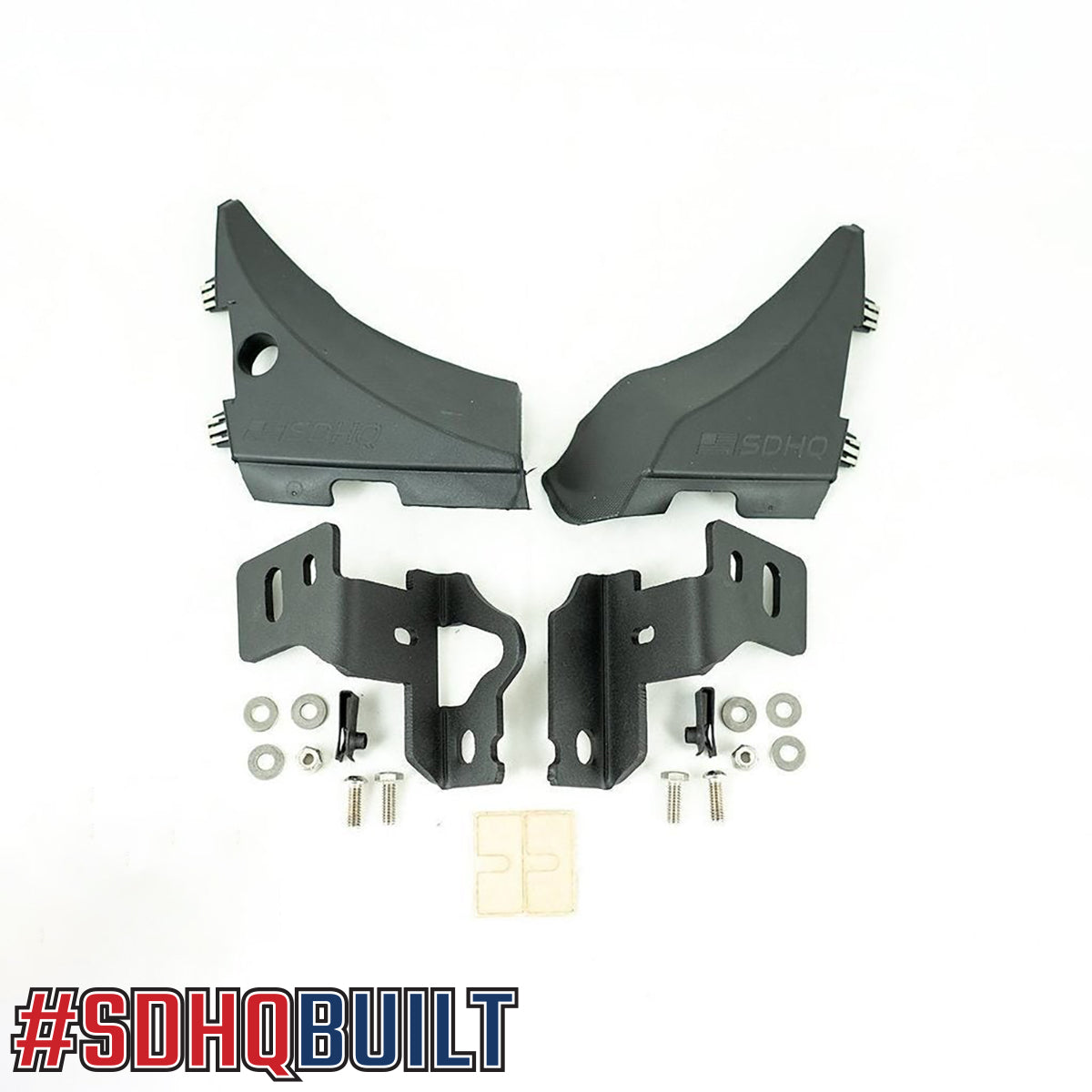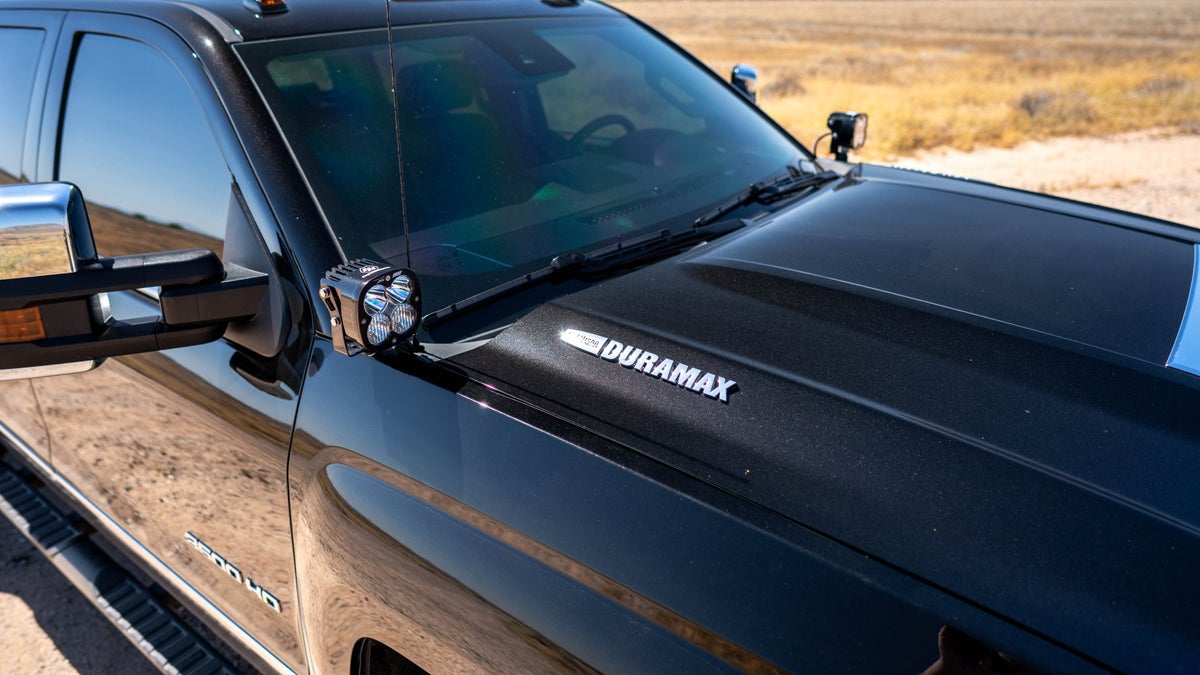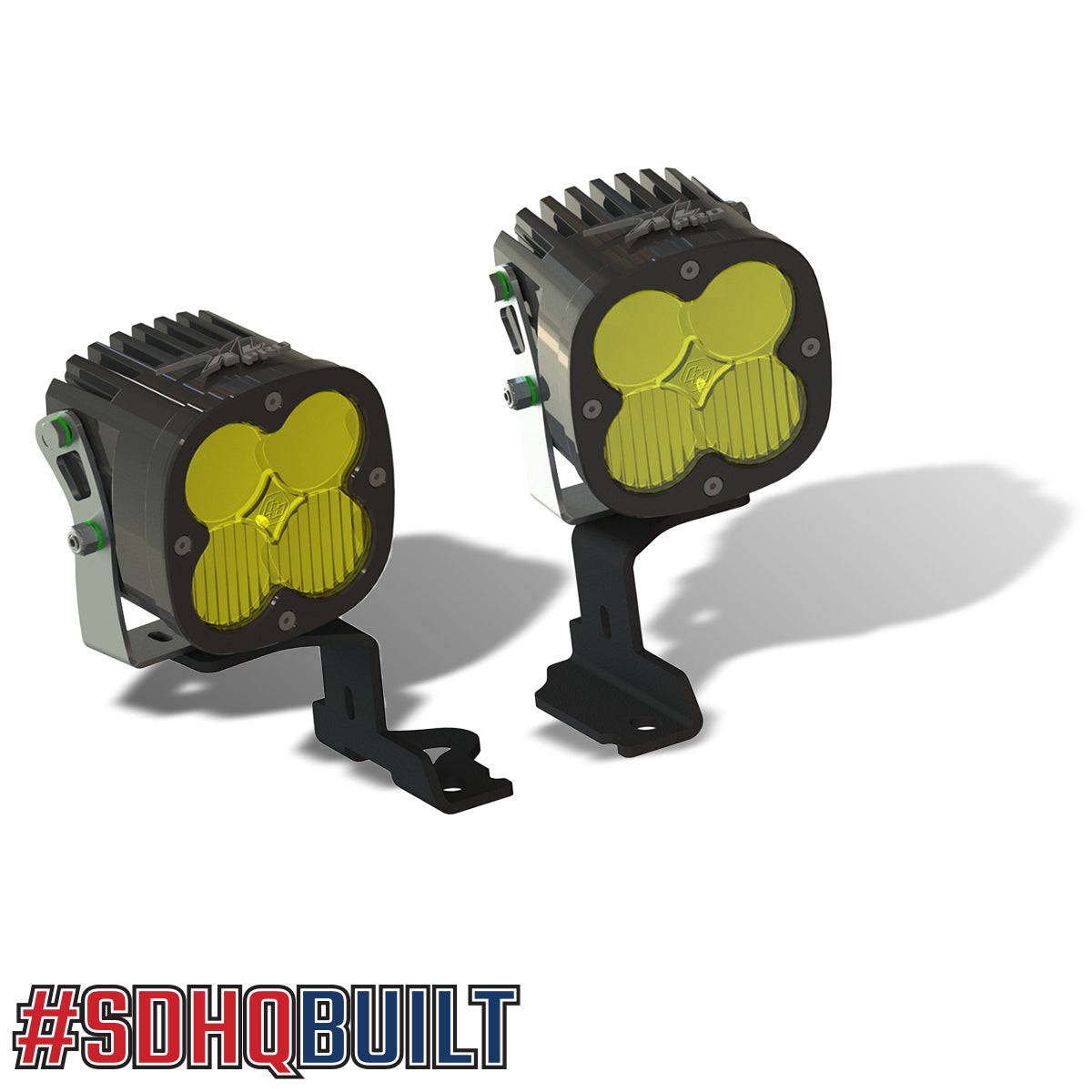 '15-19 Chevy/GM 2500/3500 SDHQ Built A-Pillar Light Mounts
'15-19 Chevy/GM 2500/3500 SDHQ Built A-Pillar Light Mounts
No / GM 2500/3500
MCQUEEN
190 South McQueen Road
Suite 109
Gilbert AZ 85233
United States
+14806332929
SDHQ BUILT A-PILLAR LIGHT MOUNT
Elevate your nighttime driving experience with the SDHQ Built A-Pillar Light Mounts, specifically tailored for the 2015-2019 Chevy/GMC 2500 and 3500. Designed with utmost precision in-house, our mounts outshine others in terms of fit and quality. The unique design eliminates the need for cowl cutting, and the OEM hardware compatibility ensures a seamless integration with your vehicle.
Features:
Customized Fit: Our mounts are exclusively designed for:

2015-2019 Chevy 2500 & 3500
2015-2019 GMC 2500 & 3500

Advanced Design Process: Every mount undergoes an intensive 3D CAD design process to deliver the unparalleled SDHQ Built quality, fit, and finish.
User-Friendly: The mounts ensure easy installation, allowing you to boost your vehicle's lighting capabilities without any major modifications.
Unobstructed View: The low-profile design ensures your vision remains clear and unhindered.
Deluxe Version: For those looking for an aesthetic upgrade, our deluxe kits come with logo-embellished, pre-cut trim pieces.
Versatile Compatibility: Our mounts come with mounting slots, making them compatible with a variety of light choices.
Sturdy Construction: Crafted with 3/16 steel plates, these mounts promise robustness and durability.
Additional Protection: The neoprene isolators not only provide dampening but also protect the mount and the vehicle.
Light Compatibility:
Baja Designs: XL/XL-R Pro/Sport, Squadron Pro/Sport, LP4 Series LED Lights, S2 Pro.
Rigid Industries: 360 Series Round Lights.
Vision X: 4.5" Light Cannon.
Why SDHQ A-Pillar Light Mounts? SDHQ prioritizes functionality without compromising on style. Our A-Pillar Light Mounts are a testament to our commitment to delivering excellence in every product. Seamlessly blending with your 2015-2019 Chevy/GMC 2500 and 3500, these mounts ensure you're prepared for every nighttime adventure. With SDHQ, quality and precision always come standard. Choose the best for your vehicle; choose SDHQ.
If you have the time, consider leaving us a review - your opinion and experience are important to us!
VEHICLE FITMENT:
2015-2019 Chevy 2500
2015-2019 GMC 2500
2015-2019 Chevy 3500
2015-2019 GMC 3500

KEY FEATURES:
3D CAD designed, engineered & built in-house for our typical SDHQ Built quality, fit, and finish
Low Profile - doesn't obstruct visibility
Deluxe kits come with pre-cut trim pieces with logo
Mounting Slot for multiple light choices and a customized fit
3/16 Steel plate construction for durability
Neoprene isolators provided for dampening, protection
Fits up to a 4.5 light.

COMPATIBLE LIGHTS:
Baja Designs
XL/XL-R Pro/Sport
Squadron Pro/Sport
LP4 Series LED Lights
S2 Pro
Rigid Industries
360 Series Round Lights
Vision X
4.5" Light Cannon
American-made Excellence
SDHQ: Built for Adventure
Experience American-made excellence from SDHQ, your fellow off-road enthusiasts. We take pride in crafting high-quality, custom products right at our headquarters for unparalleled performance and durability.
Check out what 'SDHQ Built' means for us as well as our customers: