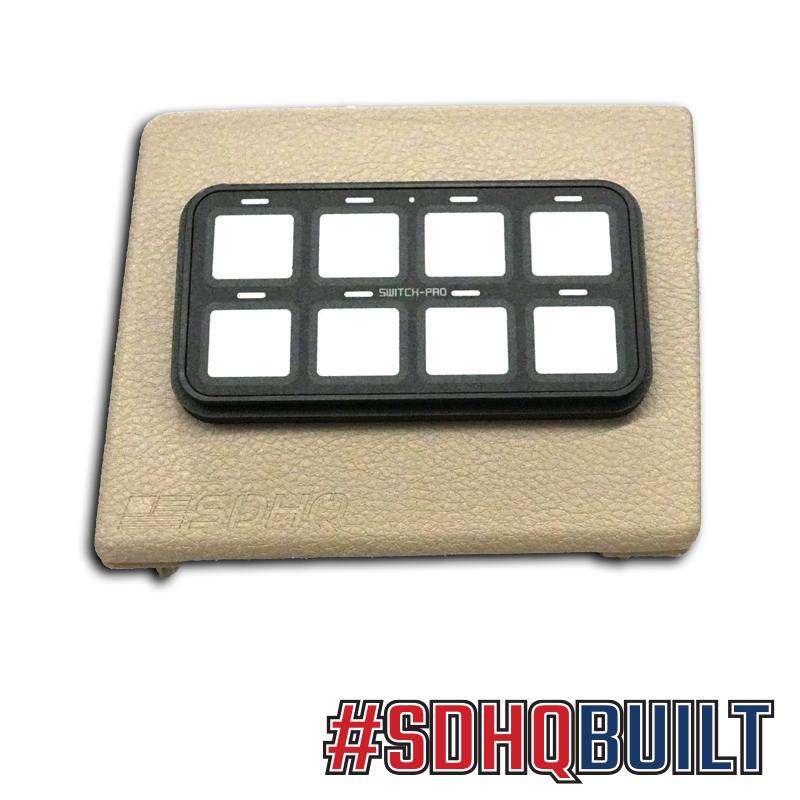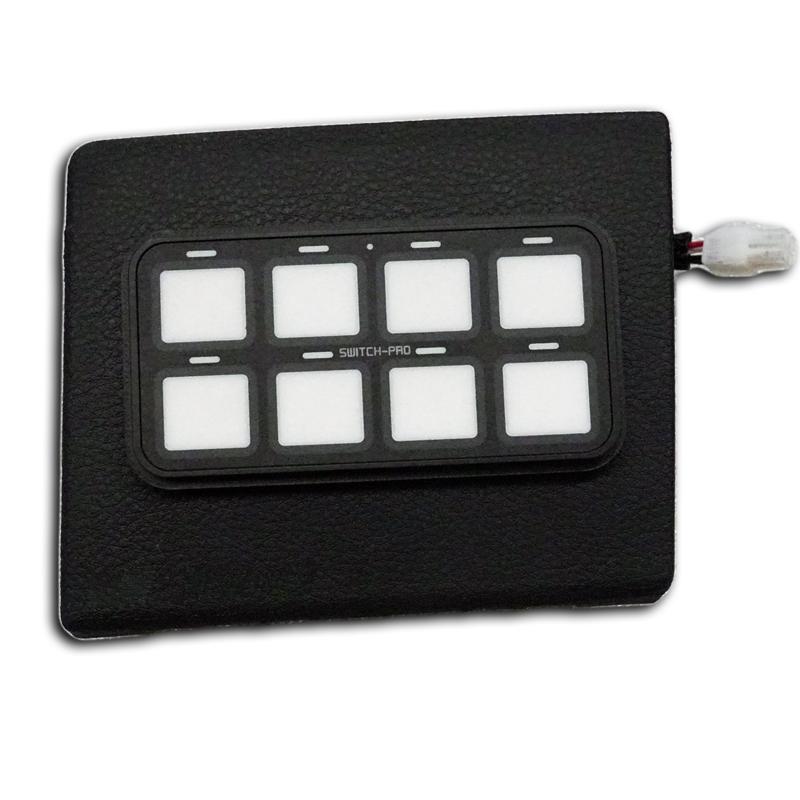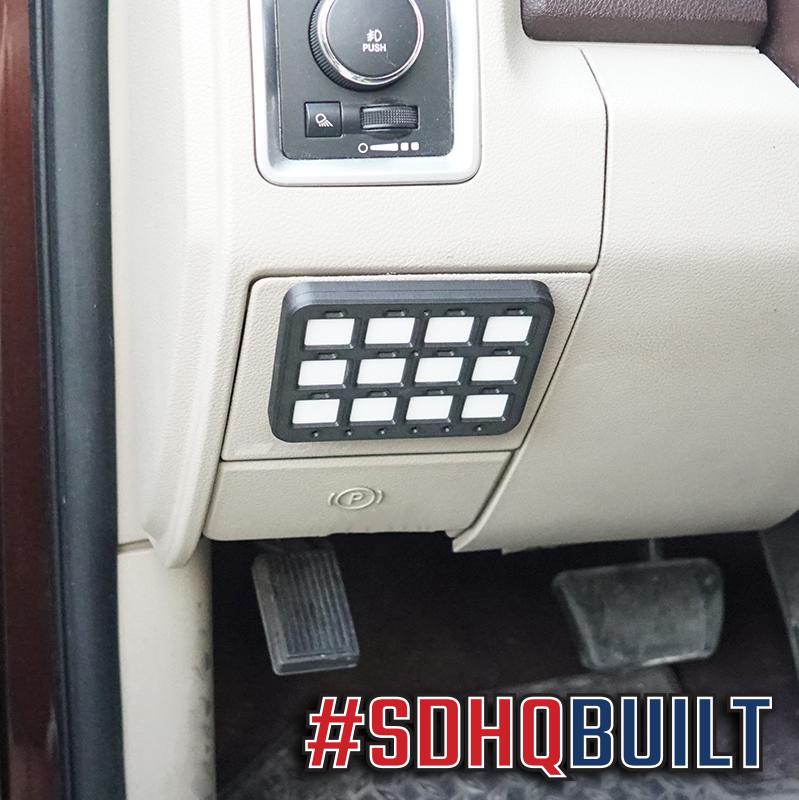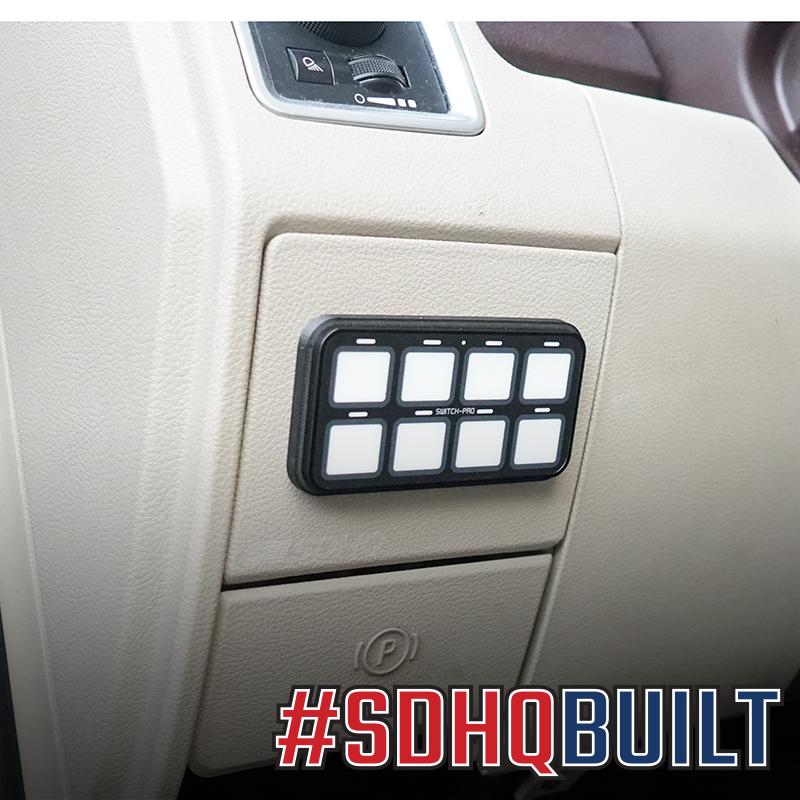 '13-18 Ram 1500 SDHQ Built Switch-Pros Keypad Mount
OEM Interior Panel Color:
'13-18 Ram 1500 SDHQ Built Switch-Pros Keypad Mount
Black Panel
MCQUEEN
190 South McQueen Road
Suite 109
Gilbert AZ 85233
United States
+14806332929
The SDHQ Built Switch-Pros Keypad Mount for the 2013-2018 Ram 1500 is a tailor-made solution that enables the integration of the Switch-Pros SP-9100 or RCR-Force-12 system into the truck's interior. This mount is especially designed to make the use of the Switch-Pros system both convenient and aesthetically pleasing, blending in with the vehicle's original interior design.
Vehicle Fitment:
The keypad mount is designed for 2013-2018 Ram 1500 models with specific considerations:
It will not fit models if the factory brake controller is located in the intended panel space.
The preferred mounting location is on the driver's side, to the left of the steering wheel, above the parking brake, which is easily accessible and does not obstruct the driver's regular control functions.
Key Features:
Designed for Quality: Reflective of SDHQ's commitment to quality, the mount is engineered in-house with precision 3D CAD design.
Custom-Cut Panel: The use of CNC laser cutting ensures that the panel fits flawlessly into the factory setup, and the etching matches the RAM's interior.
Compatibility: This mount supports the Switch-Pros 9100 and RCR-Force-12 systems, as well as the RCR-Touch 8 and RCR-Touch 12, providing versatility for various Switch-Pros options.
Ease of Installation: The mount is designed to be straightforward to install, providing a simple and clean solution for users.
OEM Panel Options:
Customers have the option to choose a panel that matches their truck's interior panel color, with part numbers available for both beige and black OEM panel colors.
What's Included:
SDHQ Laser Cut RAM Panel: A panel that matches the factory interior for a seamless look.
Acrylic Backer: Provides a sturdy mounting surface for the keypad.
3D Printed 9100 Bezel: Custom bezel for fitting the SP-9100 keypad.
3D Printed RCR-Force-12 Bezel: Custom bezel for fitting the RCR-Force-12 keypad.
Additional Notes:
The package does not include any of the Switch-Pros components. These must be purchased separately.
The mounting system makes use of the hardware provided by Switch Pros for a secure and stable installation.
This mounting kit is an excellent option for Ram 1500 owners looking to add a Switch-Pros system without compromising on the look and feel of their vehicle's interior. It allows for a straightforward installation and offers a factory-like fitment that is custom-designed for their specific model.
If you have the time, consider leaving us a review - your opinion and experience are important to us!
VEHICLE FITMENT:

Will not fit if Ram's Factory Brake Controller is located in this panel.
Mounting Location: Mounts on the driver side left of the steering wheel right above the parking brake.

KEY FEATURES:

3D CAD designed, engineered & built in-house for our typical SDHQ Built quality, fit, and finish
CNC Laser cut and etched factory RAM panel
Simple and clean solution for mounting the Switch-Pros 9100/RCR-Force-12 Keypad
Utilizes Switch Pros Hardware for mounting the Keypad
Fits Switch Pros RCR-Touch 8 and RCR-Touch 12
American-made Excellence
SDHQ: Built for Adventure
Experience American-made excellence from SDHQ, your fellow off-road enthusiasts. We take pride in crafting high-quality, custom products right at our headquarters for unparalleled performance and durability.
Check out what 'SDHQ Built' means for us as well as our customers: