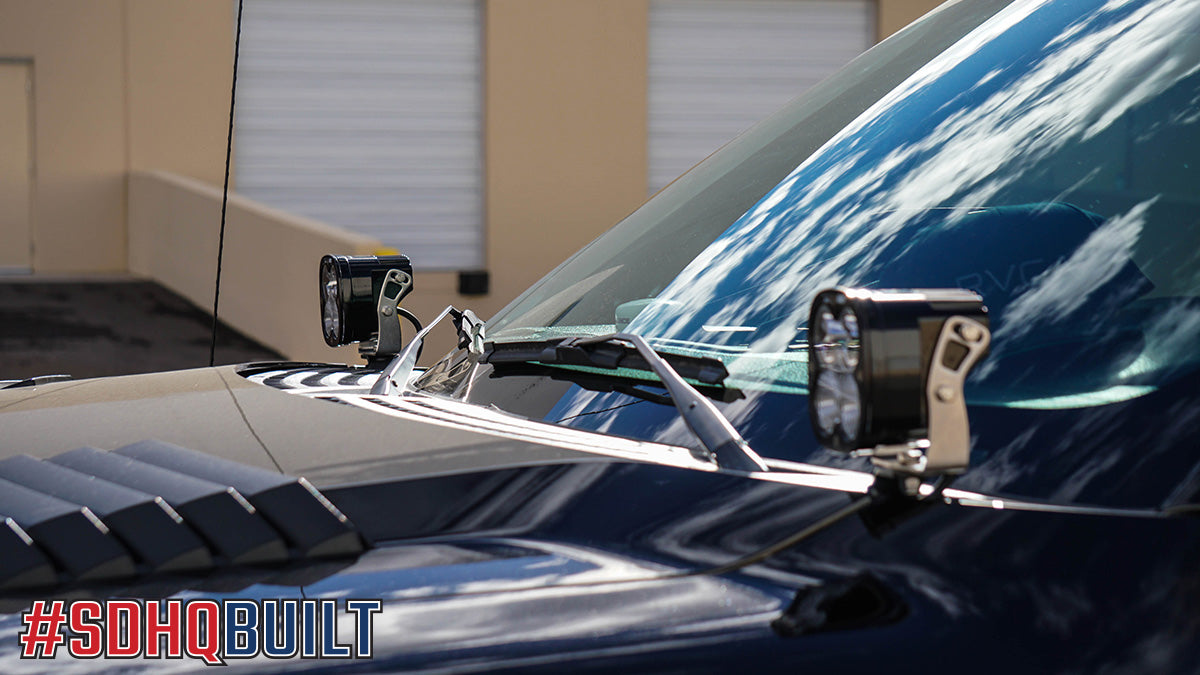 '09-14 Ford F-150 SDHQ Built A-Pillar Light Mounts
STATE OF CALIFORNIA CONSUMER WARNING: Some products may contain chemicals such as DEHP, which can cause cancer, birth defects or other reproductive harm.
SDHQ's Bolt-on A-pillar light mounts

Introducing SDHQ's A-Pillar Light Mounts tailored for the 2009-2014 Ford F-150. These mounts enable optimal placement of aftermarket LED lights, ensuring clear vision during off-road adventures. Designed and crafted in-house, we prioritize fit and durability.
FITMENT DETAILS:
MAIN HIGHLIGHTS:
Precision 3D CAD design and in-house production.
Seamless installation; no cutting or drilling necessary.
Direct fit into the F-150's hood hinge.
Constructed from durable steel plate.
Arrives in a sleek black powder-coated finish.
SUPPORTED LIGHTING:
Baja Designs: XL/XL-R Pro/Sport, Squadron Pro/Sport, S2 Pro, LP4 Series.
Rigid Industries: 360 Series.
Vision X: 4.5" Light Cannon.
WHY CHOOSE SDHQ A-PILLAR LIGHT MOUNTS: SDHQ's A-Pillar Light Mounts merge craftsmanship with utility. Our mounts ensure a factory-fresh appearance while providing a platform for powerful LED light pods. Upgrade without hassle, and hit the trails with SDHQ assurance.
If you have the time, consider leaving us a review - your opinion and experience are important to us!
VEHICLE FITMENT:
2009-2014 Ford F-150

KEY FEATURES:
3D CAD designed, engineered & built in-house for our typical SDHQ Built quality, fit, and finish
No Cutting or Drilling Required
Bolts into existing hood hinge
Thick steel plate construction for durability
Ships with black powder coated finish

COMPATIBLE LIGHTS:
Baja Designs
XL/XL-R Pro/Sport
Squadron Pro/Sport
LP4 Series LED Lights
S2 Pro
Rigid Industries
360 Series Round Lights
Vision X
4.5" Light Cannon
American-made Excellence
SDHQ: Built for Adventure
Experience American-made excellence from SDHQ, your fellow off-road enthusiasts. We take pride in crafting high-quality, custom products right at our headquarters for unparalleled performance and durability.
Check out what 'SDHQ Built' means for us as well as our customers: