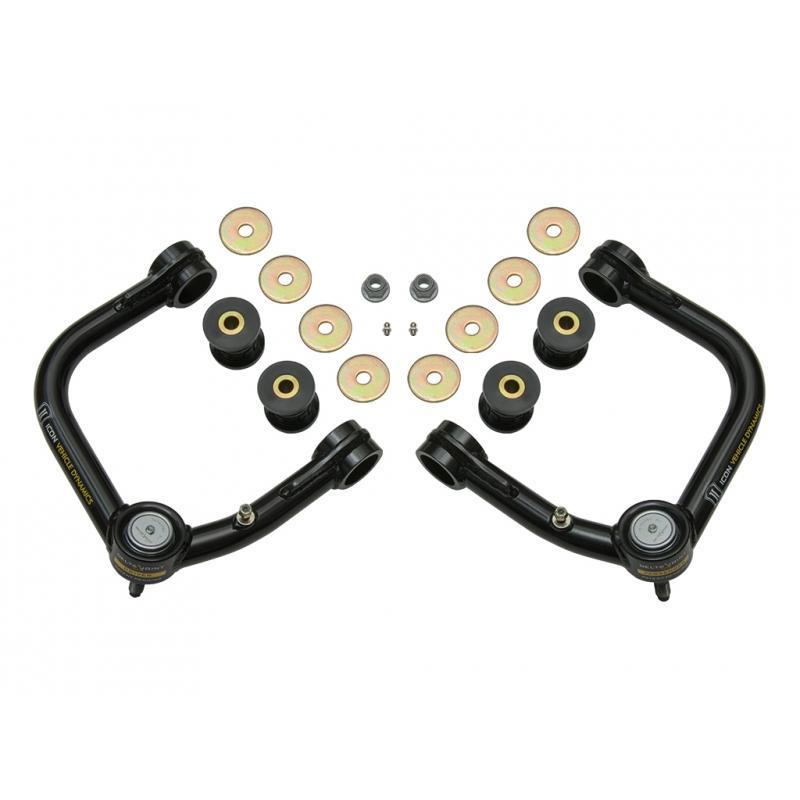 '03-23 Toyota 4Runner Tubular Delta Joint Upper Control Arm Kit
'03-23 Toyota 4Runner Tubular Delta Joint Upper Control Arm Kit
MCQUEEN
190 South McQueen Road
Suite 109
Gilbert AZ 85233
United States
+14806332929
Take the performance of your 2003-2023 (4th and 5th Gen) Toyota 4Runner to new levels with the ICON Vehicle Dynamics Delta Joint tubular upper control arm kit. All ICON tubular upper control arms are constructed from CNC bent 1026 DOM steel tubing and then powder coated to a semi-gloss black finish for maximum strength and corrosion resistance. ICON upper control arms are engineered with built-in caster correction for optimal alignment specifications and confidence inspiring handling. A main benefit of ICON upper control arms is the potential for increased wheel travel when paired with our extended travel coilovers, this translates into superior performance and ride quality for your vehicle.
KEY FEATURES:
ICON Delta Joint
1026 DOM Steel Construction
CNC Bent Tubing
Serviceable Dual Stage Bushings
CNC Machined Bushing Housings and Sleeves
Built-In Caster Correction
Black Semi-Gloss Powder Coat Finish
DELTA JOINT OVERVIEW:
This system features upper control arms with ICON's patent pending Delta Joint. The Delta Joint is a heavy-duty high angle ball joint that combines the durability of a ball joint with the performance characteristics of a traditional uniball. While the industry standard uniball does a great job of allowing the control arms of a vehicle to articulate with little bind, they do have an inherent weakness that leaves more to be desired when used in a daily driven application - exposure to the elements. The Delta Joint features a zinc plated housing providing the first layer of corrosion resistance, while a tough grease seal keeps potentially harmful elements out of the inner workings of the joint. Metal on metal construction and a greaseable design increase the longevity of the Delta Joint while at the same time allowing for noise-free operation. What makes the Delta Joint unique is that it brings the best of both worlds to ICON upper control arms with features that make it more robust than a uniball, and at the same time capable of greater angularity than a typical ball joint.
TECH INFO:
Factory Wheels & Tires Fitment: Yes
Recommended Aftermarket Wheels: ICON Alloys | 17x8.5 w/ 4.75" Backspace / 0mm Offset
Recommended Aftermarket Wheels: ICON Alloys | 18x9 w/ 5" Backspace / 0mm Offset
Recommended Aftermarket Tires: 33" x 11.50"
KEY FEATURES:

- ICON Delta Joint
- 1026 DOM Steel Construction
- CNC Bent Tubing
- Serviceable Dual Stage Bushings
- CNC Machined Bushing Housings and Sleeves
- Built-In Caster Correction
- Black Semi-Gloss Powder Coat Fin
American-made Excellence
SDHQ: Built for Adventure
Experience American-made excellence from SDHQ, your fellow off-road enthusiasts. We take pride in crafting high-quality, custom products right at our headquarters for unparalleled performance and durability.
Check out what 'SDHQ Built' means for us as well as our customers: