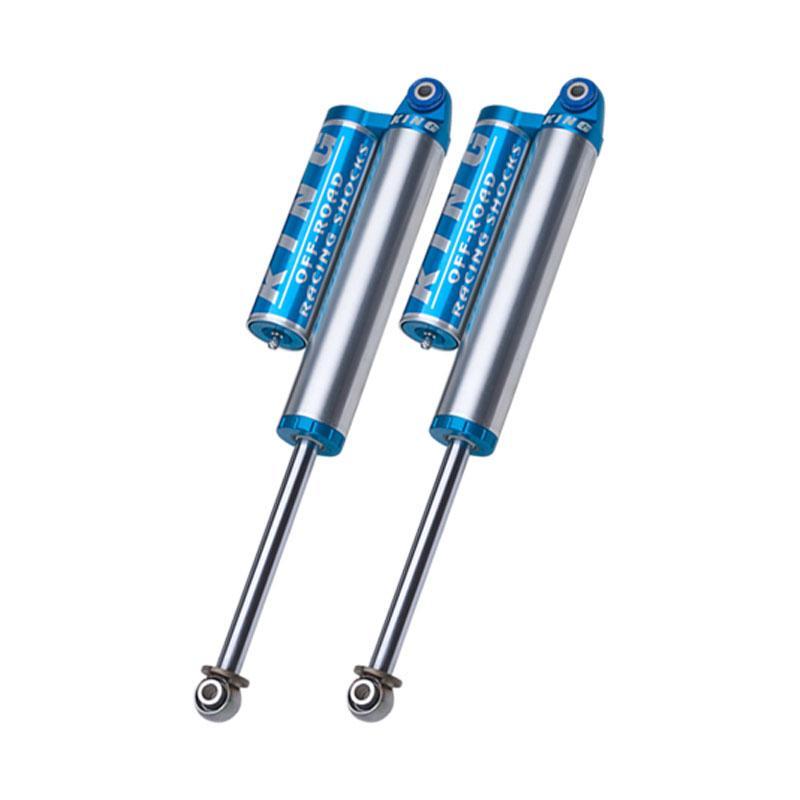 '01-19 Chevy/GM 2500/3500HD 2.5 Performance Series Rear Shocks
'01-19 Chevy/GM 2500/3500HD 2.5 Performance Series Rear Shocks
2001-2010 / Piggyback Reservoir
MCQUEEN
190 South McQueen Road
Suite 109
Gilbert AZ 85233
United States
+14806332929
KING offers their 2.5 series rear shocks in a piggyback reservoir configuration with an optional external compression adjuster for fine tuning. These bolt right in and include the necessary hardware. These are for 0-1.5″ of lift over stock in the rear.

2.5″ ID honed CAD plated cylinders
7/8″ hard chrome micro polished shafts
PTFE lined rod ends
Fully rebuidable and revavlable
Made in the USA
COMPRESSION ADJUSTER FEATURES:
King Shocks offer Compression Adjusters on 2.0, 2.5, and 3.0 coilovers, smoothies and internal bypass shocks. King compression Adjusters have a single knob to quickly make adjustments to mid speed compression, resulting in changes to ride comfort and performance. In addition to helping you dial in the perfect ride, they improve the function of the shock and can also save you countless hours of suspension tuning.
- 2.5″ ID honed CAD plated cylinders
- 7/8″ hard chrome micro polished shafts
- PTFE lined rod ends
- Fully rebuildable and revavlable
- Made in the USA
American-made Excellence
SDHQ: Built for Adventure
Experience American-made excellence from SDHQ, your fellow off-road enthusiasts. We take pride in crafting high-quality, custom products right at our headquarters for unparalleled performance and durability.
Check out what 'SDHQ Built' means for us as well as our customers: