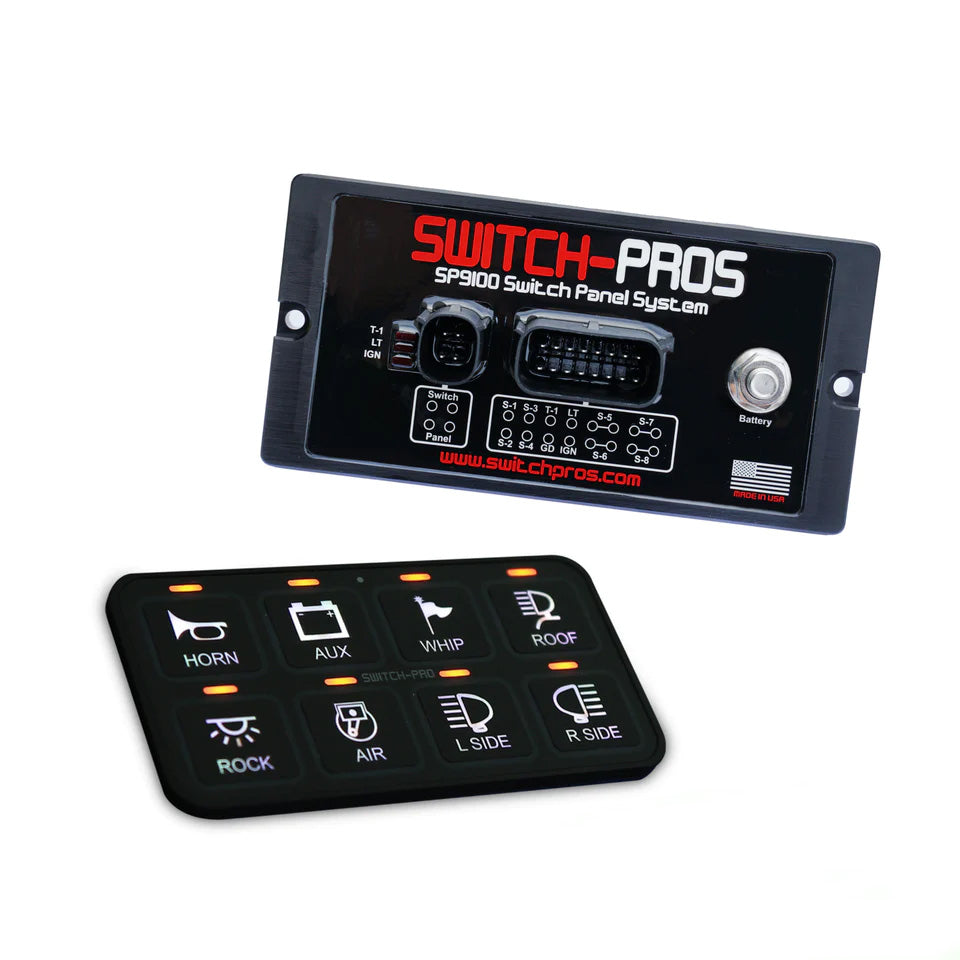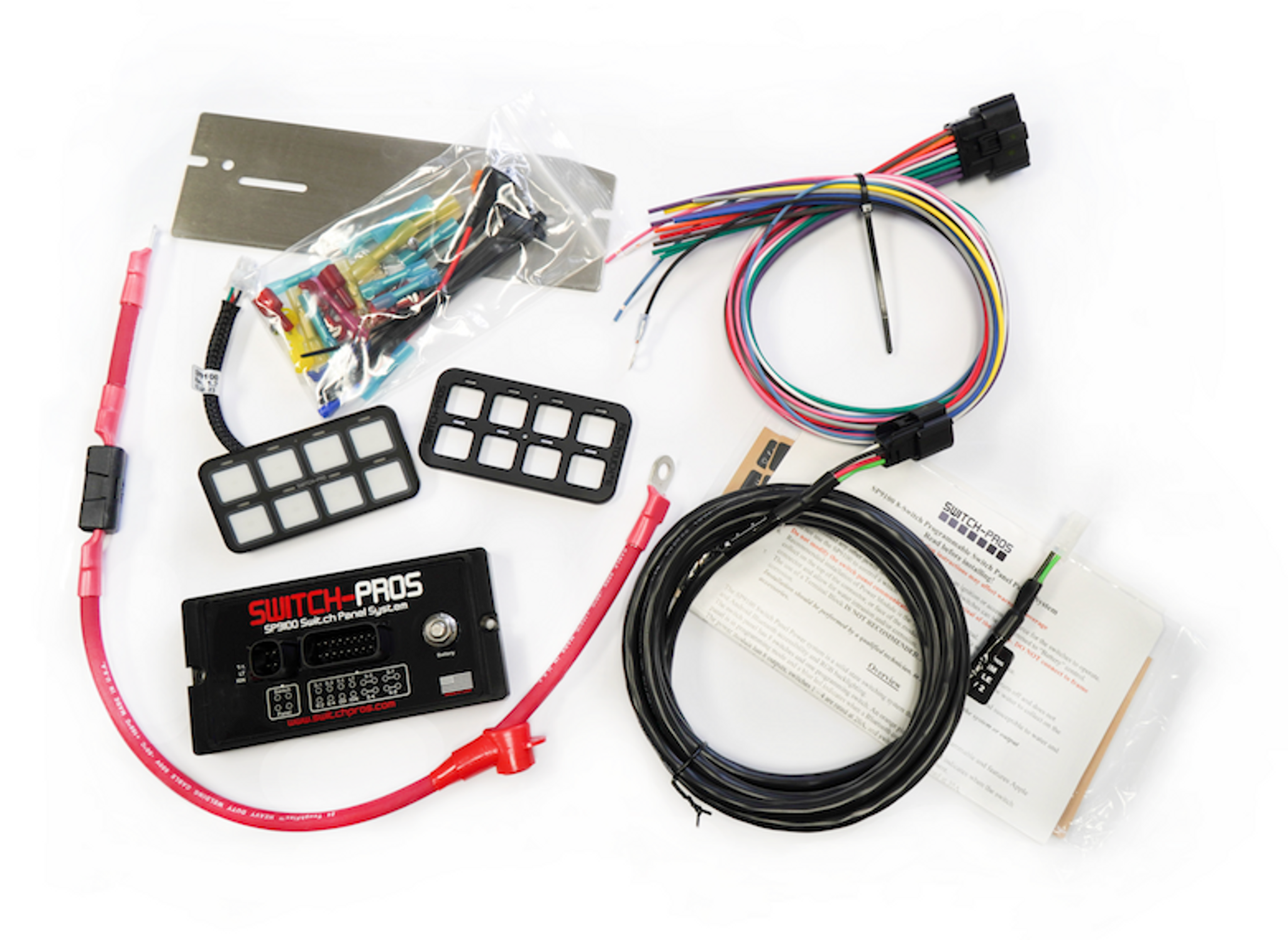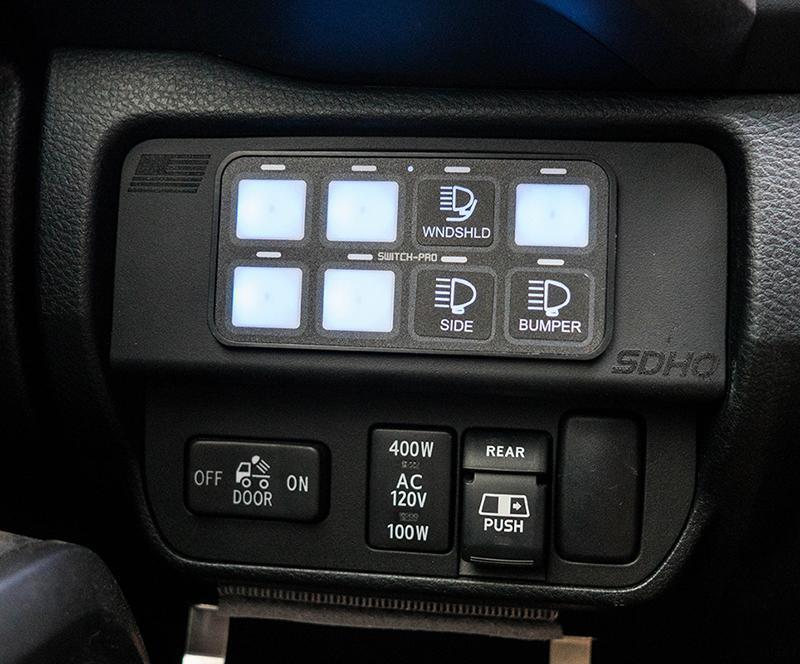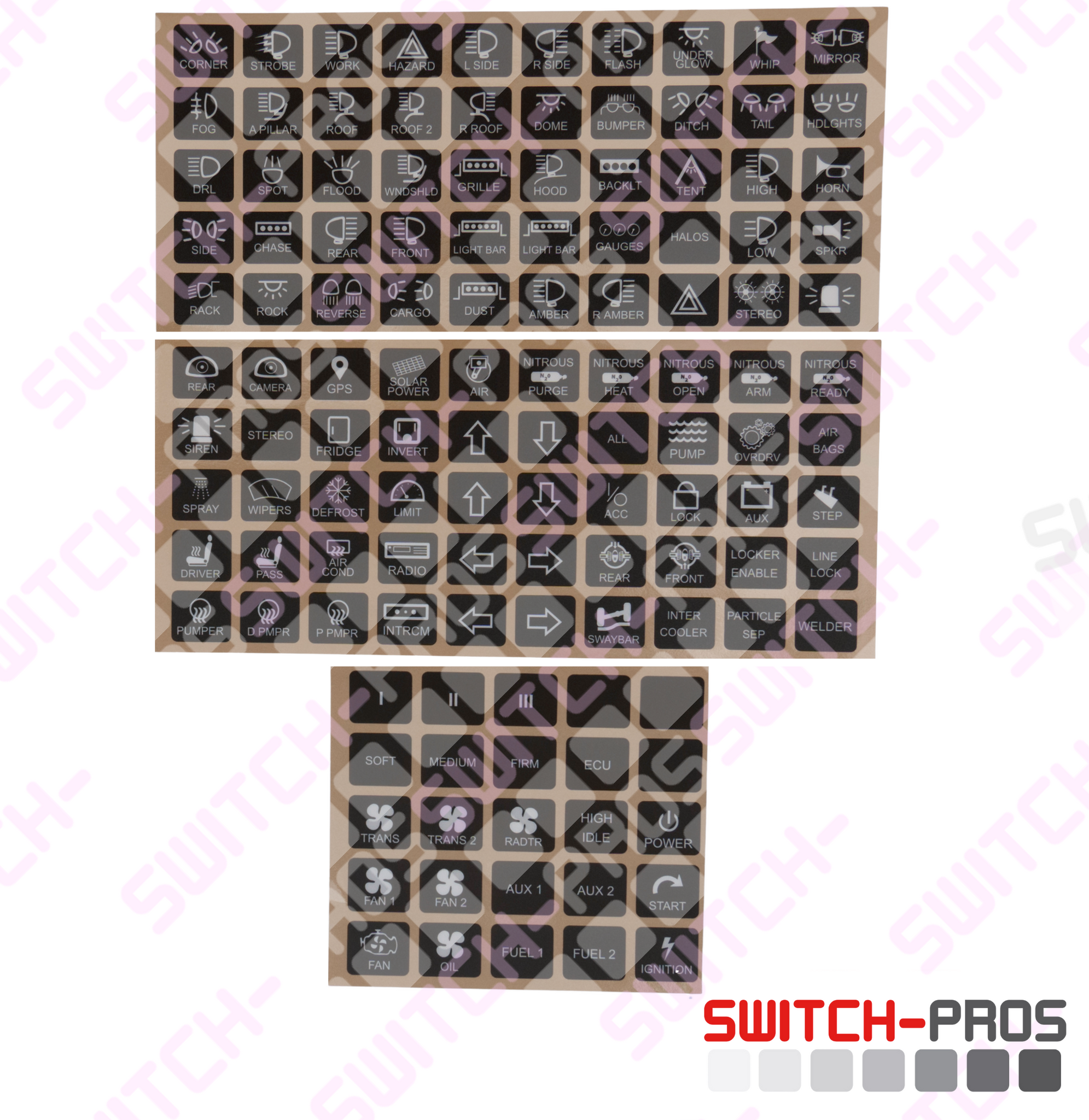 Switch Pros SP-9100 8 Switch Panel Power System
Switch Pros SP-9100 8 Switch Panel Power System
MCQUEEN
190 South McQueen Road
Suite 109
Gilbert AZ 85233
United States
+14806332929
Elevate Your Control: The Ultimate Dashboard Solution
Eliminate dashboard clutter with the Switch-Pros 9100, the market's leading advanced and versatile switch panel system. Control your vehicle's accessories directly from your iPhone or Android.
Key Features:
Eight customizable switches.
Four 35A and four 18A circuits; equipped with over-current and short circuit protection.
Waterproof, 125A Solid State Power Module.
RGB Backlighting with unlimited colors using App's Color Picker.
Connect up to 3 Switch Panels to one Power Module.
Switch Capabilities:
Programmable for On/Off, Momentary, Ignition/Battery, Flash/Strobe with adjustable patterns.
Memory Function and Master Mode for streamlined control.
Automatic activation on vehicle start.
External triggers can control up to four outputs.
Adjustable lighting dimness; can dim during flash patterns.
Sleep Mode minimizes power consumption.
Color-coded wires, 100 selectable switch legends, LED status indicators, Time Delay Off function.
Splash-proof panel with Polycarbonate faceplate.
Control via panel or smartphone with built-in Bluetooth. App shows battery voltage readout.
Specs:
Bezel Style Switch Panel: 4 L x 2 W x .375 H; concealed mounting, orange LED indicators.
Power Module: 8 Outputs (4 @ 35A, 4 @ 20A), max 125A rating. Size: 6L x 3W x .5H; rated for 125°C to -40°C.
Included:
11' communication cable.
Color-coded output wires with waterproof connectors.
Power Cable (125A inline fuse).
Standard switch legend.
Includes RCR-TOUCH-8 PANEL.
If you have the time, consider leaving us a review - your opinion and experience are important to us!
KEY FEATURES:

- Eight user-programmable switches
- Four 35A circuits and four 18A circuits, with over-current and short circuit protection
- Waterproof, Solid State 125A Power Module
- RGB Backlighting provides unlimited color options, using - Color Picker on App
- Daisy Chain up to 3 Switch Panels to One Power Module

SWITCHES CAN BE PROGRAMMED FOR:

- On/Off or Momentary
- Ignition or Battery Input
- Flash or Strobe, with User-Selectable Strobe patterns and One Touch activation
- Memory Function
- Master Mode, with ability to turn multiple outputs On AND Off with one touch
- Automatic Power-Up upon vehicle start up
- Two External trigger inputs can each activate up to four outputs (Active Hi or Active Low)
- Lighting outputs can dim from 100% to 10%, with ability to dim during Flash or Strobe patterns
- Sleep Mode for minimal power consumption
- Color Coded Output wires
- 100 User-selectable switch legends
- LED Input Status Indicators for easy troubleshooting
- Time Delay Off function available for all circuits
- Splash proof switch panel with Polycarbonate overlay faceplate
- Program and control the system from switch panel pad or smart phone
- Bluetooth interface with FREE Apple or Android App
- Battery Voltage Readout on App screen
- No Fuses or Bulky Relay box
- Built-In Bluetooth Module
American-made Excellence
SDHQ: Built for Adventure
Experience American-made excellence from SDHQ, your fellow off-road enthusiasts. We take pride in crafting high-quality, custom products right at our headquarters for unparalleled performance and durability.
Check out what 'SDHQ Built' means for us as well as our customers: