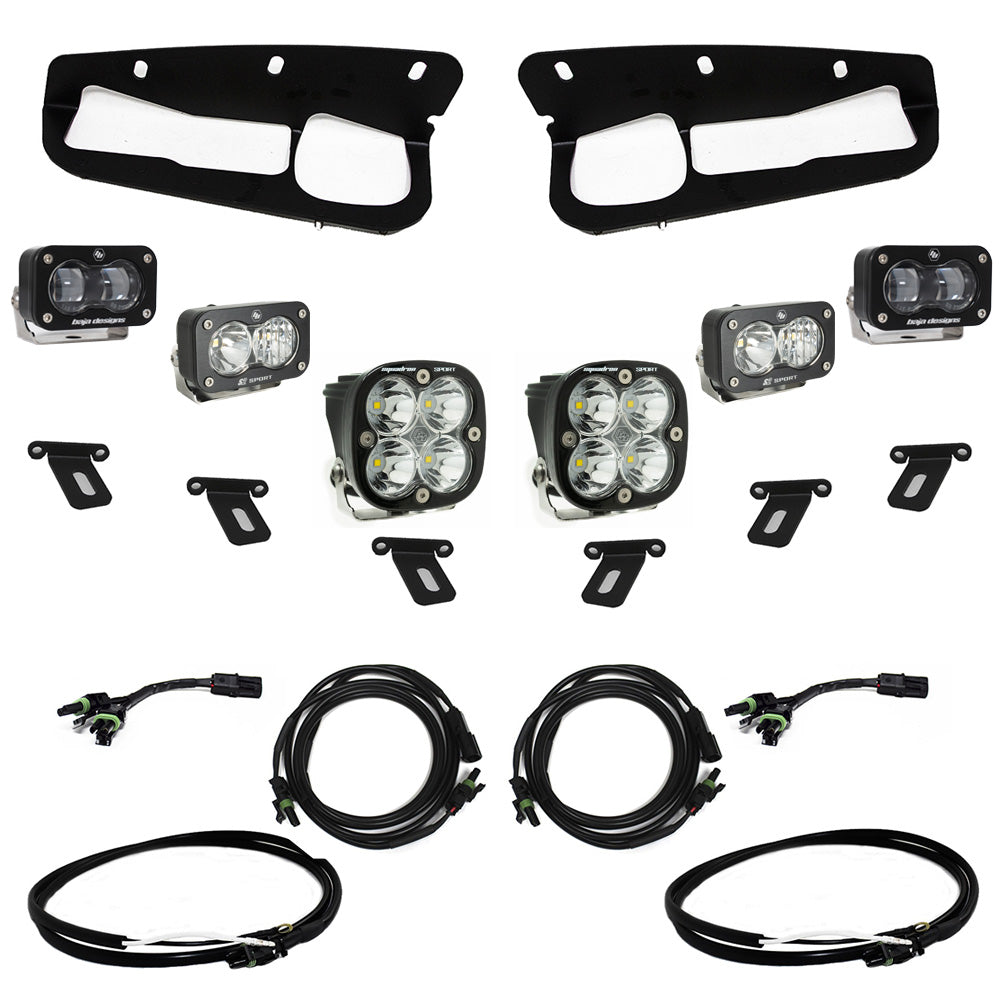 2021+ Ford Bronco S2 SAE "Sportsmen" Fog Pocket Light Kit - Clear - Upfitter Wiring
STATE OF CALIFORNIA CONSUMER WARNING: Some products may contain chemicals such as DEHP, which can cause cancer, birth defects or other reproductive harm.
The new Ford Bronco is a great platform that deserves an equally great light kit. That's why we are proud to offer the new S2 SAE "Sportsmen" fog pocket light kit designed specifically for the factory Bronco Steel Bumper.  Light up the trail and differentiate yourself from the pack with this kit that includes our next generation S2 SAE, S2 Sport in driving combo, and Squadron Sport in spot configuration providing max distance.
Introducing the next light to our SAE series, the S2 SAE with aspheric projector optics, advanced LED technology, and impressive output make it the perfect road-legal auxiliary fog light delivering an impressive 1,210 lumens per light with an output reaching up to 5712 candela (measured) at just 12.42W.  Designed to meet SAE J583 fog lamp requirements, the S2 SAE is fully compliant with road regulations and allows for a highly controlled light pattern with a sharp cutoff making them an ideal choice for driving through dust, fog, and inclement weather.  
Paired with our popular S2 Sport (1,581 lumens) and Squadron Sport (3,162 lumens) for the best in off-road performance giving your Bronco max illumination anywhere you drive. This comprehensive kit comes with everything you need for a quick install and does not require any additional parts. 
*Only fits Broncos equipped with a factory Steel Bumper*
*NOTE: uService® is NOT a feature of all SAE products. If tampered, it will void the warranty. Our Limited Lifetime Warranty is valid only if sent back for repairs.
SKU: 448174UP Includes: 
(2) S2 Sport, Driving/Combo

(2) Squadron Sport, Spot

(2) S2 SAE, Clear Spot

(8) Mounting Bracket

(2) Upfitter Wiring Harness 

(4) Splitter Harness

All necessary hardware
SKU: 448174UP includes:

(2) S2 Sport, Driving/Combo
(2) Squadron Sport, Spot
(2) S2 SAE, Clear Spot / S2 SAE, Amber Spot
(8) Mounting Bracket
(2) Upfitter Wiring Harness
(4) Splitter Harness
All necessary hardware
American-made Excellence
SDHQ: Built for Adventure
Experience American-made excellence from SDHQ, your fellow off-road enthusiasts. We take pride in crafting high-quality, custom products right at our headquarters for unparalleled performance and durability.
Check out what 'SDHQ Built' means for us as well as our customers: