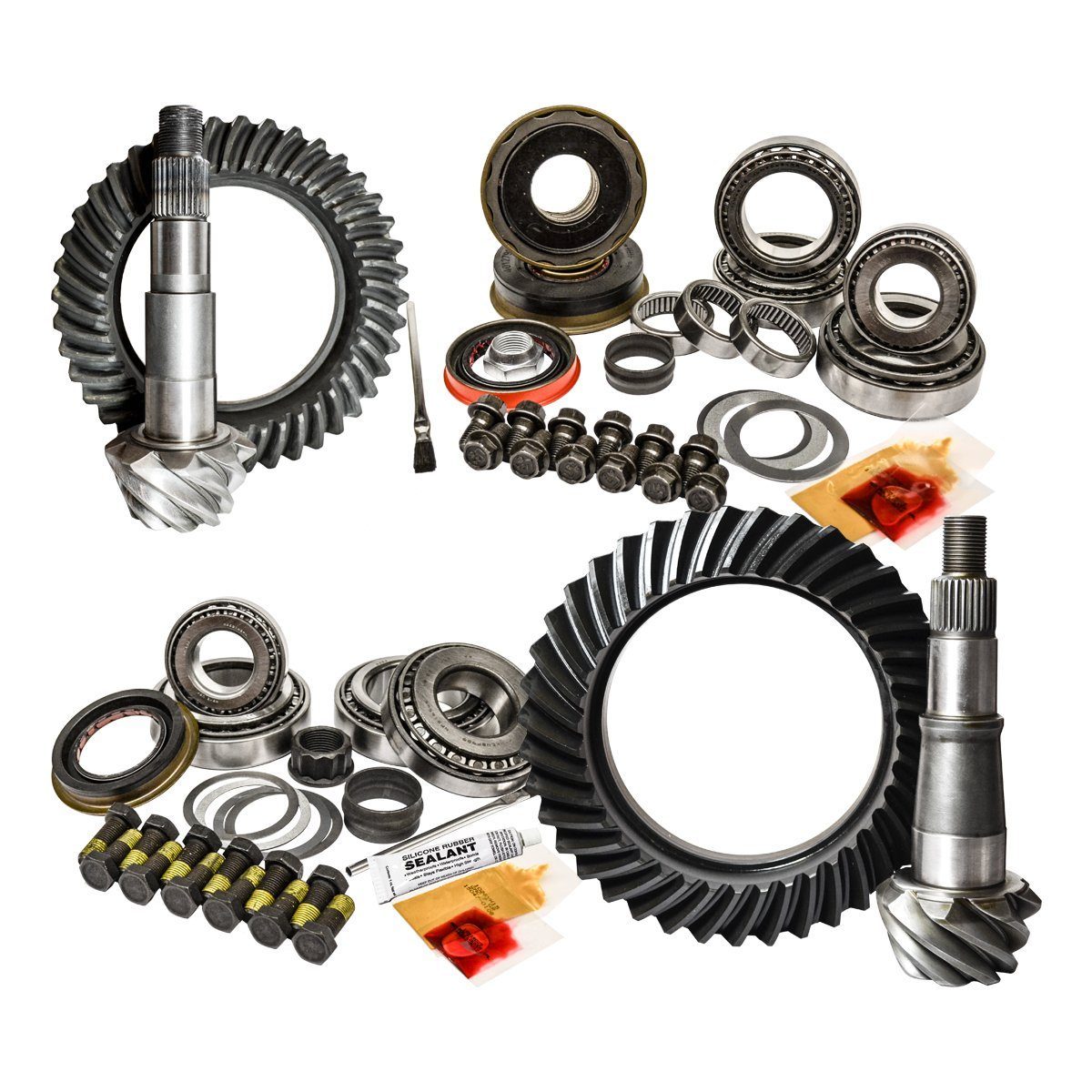 '03-10 Dodge Ram 2500/3500 Diesel Front and Rear Gear Package Kit
'03-10 Dodge Ram 2500/3500 Diesel Front and Rear Gear Package Kit
5.13 / No
MCQUEEN
190 South McQueen Road
Suite 109
Gilbert AZ 85233
United States
+14806332929
Nitro Gear and Axle's complete gear kit is designed to improve performance and fuel economy for the 2003-2010 Dodge Ram 2500 and 3500 with the Cummins Diesel Engine.

It is a common misconception that lower gears are only for hardcore off-roading, in actuality the average daily driven vehicle can see huge improvements in both performance and economy by properly matching their vehicle's gear ratio to their tire size all while reducing strain on the vehicles drivetrain.
VEHICLE FITMENT:
2003-2010 Dodge Ram 2500 with Cummins Diesel
2003-2010 Dodge Ram 3500 with Cummins Diesel
DRIVETRAIN FITMENT:
Front Differential: AAM 9.25" Reverse
Rear Differential: AAM 11.5"
Gear Ratio: 3.42, 3.73, 4.11 4.30, 4.56, 4.88 or 5.13
KEY FEATURES:
Manufactured in South Korea

8620 Steel Gear Forgings
Precision Machining
CNC Triple-lapping
Heat Treatment
Rockwell Hardness Tested
WHAT'S INCLUDED:
Nitro front ring & pinion
Nitro front Master Install Kit
Nitro rear ring & pinion
Nitro rear Master Install Kit
TECH NOTES:
2003-2006 Models will require a front ring gear spacer MRG925A or a 2007 & newer style carrier NC-AAM9.25-COM .
2007-2010 Dodge 2500 & 3500 will still require MRG925A ring gear spacer with aftermarket air locker such as ARBRD197.
*Some 2003 Models have a smaller AAM 10.5" rear axle. There is not a Gear Package for this application
KEY FEATURES:

- Manufactured in South Korea
- 8620 Steel Gear Forgings
- Precision Machining
- CNC Triple-lapping
- Heat Treatment
- Rockwell Hardness Tested
American-made Excellence
SDHQ: Built for Adventure
Experience American-made excellence from SDHQ, your fellow off-road enthusiasts. We take pride in crafting high-quality, custom products right at our headquarters for unparalleled performance and durability.
Check out what 'SDHQ Built' means for us as well as our customers: