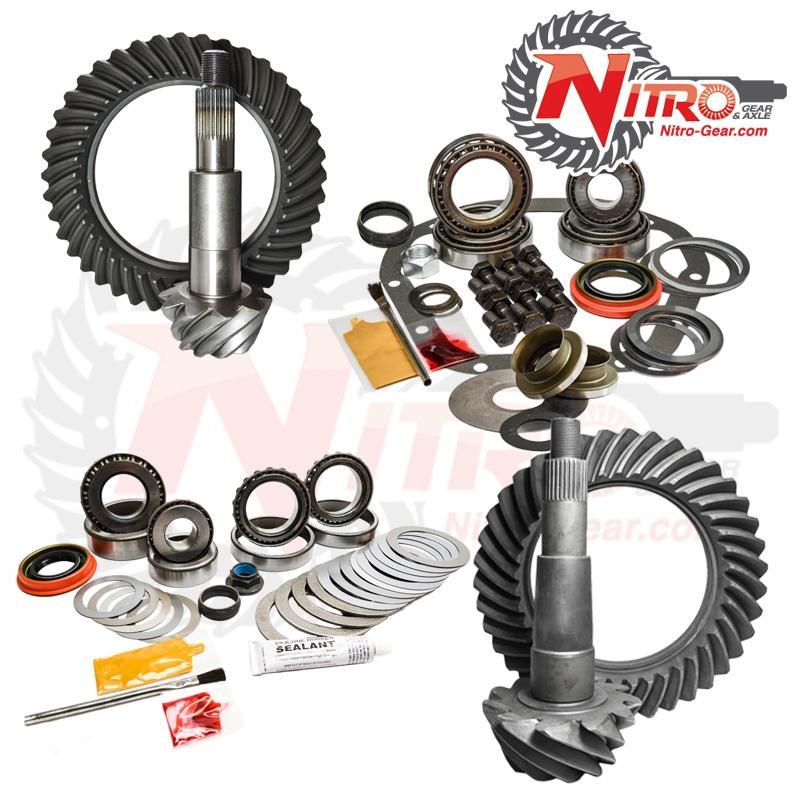 '02-10 Ford F250/250 Front and Rear Gear Package Kit
STATE OF CALIFORNIA CONSUMER WARNING: Some products may contain chemicals such as DEHP, which can cause cancer, birth defects or other reproductive harm.
Nitro Gear and Axle's complete gear kit is designed to improve performance and fuel economy for the 2002-2010 Ford F250 and F350.
If you've fitted larger tires to your vehicle then you are likely experiencing a loss in performance, fuel economy, and more constant transmission gear "hunting" - This is because the larger tires reduce your engine's RPMs below the optimal power band. Re-gearing the differentials in your vehicle is the only way to get your vehicle back into its optimal operating RPM range, thus improving performance and reducing strain on your vehicle's drivetrain. This is especially important for today's vehicles as they feature tall factory gearing and overdrive transmissions which are less tolerant to increase in tire size or the weight of added accessories.
It's a common misconception that gear changes are reserved only to hardcore off-roaders or trucks with huge tires. However, re-gearing is one of the single most beneficial modifications you can make to keep the performance, economy, and durability of your daily-driven 4x4. This is a mod for anyone with larger tires, increased weight, or for increased performance on stock vehicles for towing or increased acceleration.
VEHICLE FITMENT:
2002-2010 Ford F-250 Super Duty
2002-2010 Ford F-350 Super Duty
*Does not fit Dually models*
DRIVETRAIN FITMENT:
Front Differential: Dana Rev. Super 60
Rear Differential: Ford 10.5"
Gear Ratio: 4.11, 4.30, 4.56, 4.88, 5.13 or 5.38
KEY FEATURES:
Manufactured in South Korea

8620 Steel Gear Forgings
WHAT'S INCLUDED:
Nitro Super 60 front ring & pinion
Nitro front Master Install Kit
Nitro Super 60 rear ring & pinion
Nitro rear Master Install Kit
TECH INFO:
Does not fit Dually models
ARB Package Notes:

4.56 & up takes RD166
4.10 & down takes RD167
TECH INFO:

-Does not fit Dually models
-ARB Package Notes:
-4.56 & up takes RD166
-4.10 & down takes RD167
American-made Excellence
SDHQ: Built for Adventure
Experience American-made excellence from SDHQ, your fellow off-road enthusiasts. We take pride in crafting high-quality, custom products right at our headquarters for unparalleled performance and durability.
Check out what 'SDHQ Built' means for us as well as our customers: